Jewelry
The best men's pearl necklaces to make you look handsome
Apr 21, 2022
Pearl necklaces are having a moment. And while they've historically been associated with the likes of Audrey Hepburn and Jackie Kennedy, these necklaces are now coming to be associated with a surprising group of people: fashion-conscious men. Male celebrities like Pharrell Williams, Harry Styles, Kanye West, and A$AP Rocky have paved the way for more and more male actors and musicians to start wearing pearls. Now, even non-famous men are catching on.
Who's Wearing Men's Pearl Necklaces?
So what male celebrities are actually wearing pearls? The answer: a lot of them. Pharrell Williams has been wearing layered ropes of pearls since 2014. Kanye West has a bleached denim jacket embroidered with countless pearls and precious stones. And Harry Styles will wear pearls with just about anything.
View this post on Instagram
Other notable men who like to wear pearls include Bad Bunny, the Jonas Brothers, A$AP Rocky, Shawn Mendes, Billy Porter, Ezra Miller, Gucci Mane, and Elton John. And as we'll see in a minute, these creative celebrities have come up with new and inventive ways to use pearl necklaces to make their outfits unforgettable.
Pearl Necklaces: The New Trend for Men
This jewelry trend isn't limited to boutique jewelers and smaller shops. Major brands are designing necklaces specifically for men and then showing them off in fashion shows. here are the most notable ones: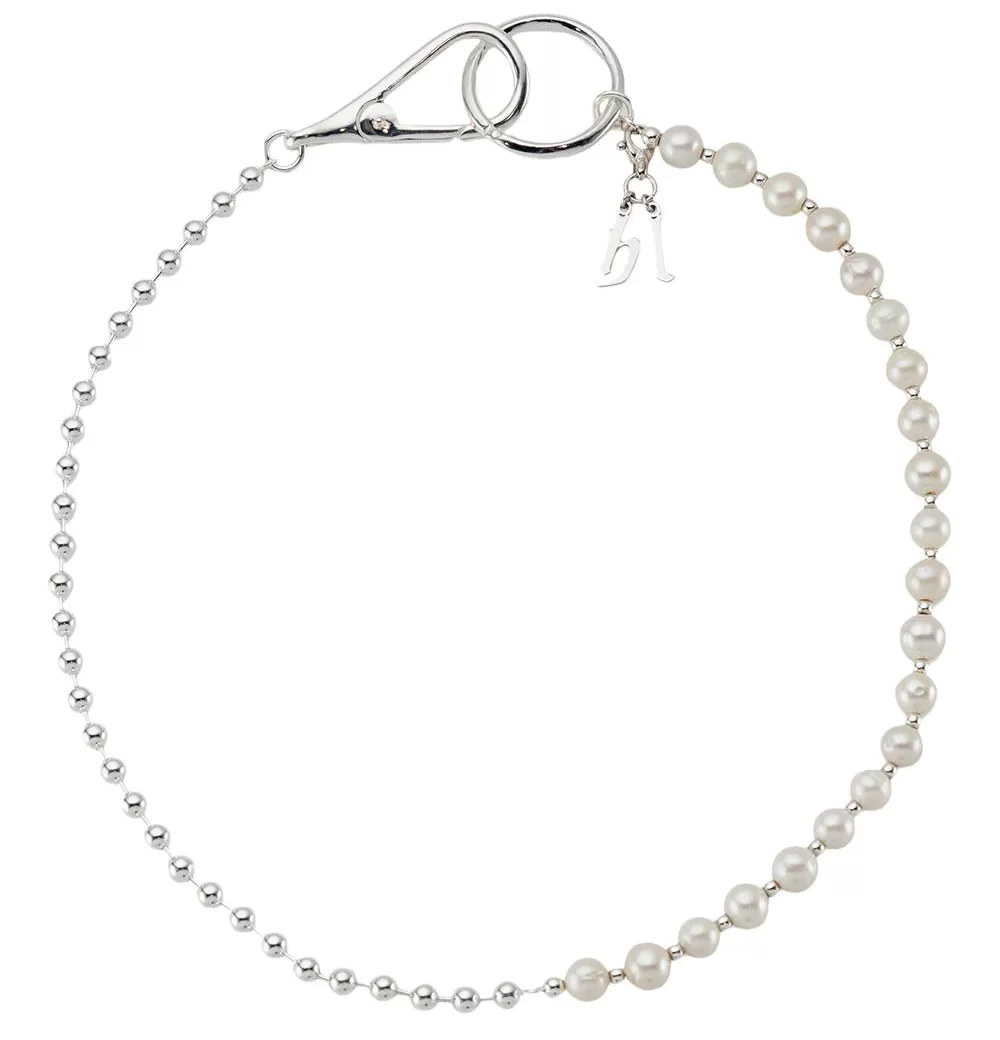 Hatton Labs sterling silver pearl necklace $484, SHOP NOW.
London-based jeweler Hatton Labs is one of the most fashion-forward brands. It specializes in androgynous-leaning jewelry. One of its most striking icon necklaces is the 50/50 pearl and silver chain. It's perfect for adding some subtle glimmer to casual and elegant looks alike. Nialaya is a hot Hollywood-based company that has made custom pearl necklaces for famous men like Shawn Mendes. Some of its best pieces include baroque pearl necklaces. Nialaya is a great option if you want to pair pearls with a pop of color; many of its necklaces intersperse white pearls with bright glass beads. M. Cohen offers a striking twist on the pearl necklace with the elegantly rugged Mondi pearl necklace. This one pairs a dark chain with brilliant white pearls. But the highest-profile collection of men's pearl necklaces probably comes from Mikimoto and Comme des Garçons. The brands came together to make seven different pearl necklaces. Each combines South Sea or Akoya pearls with the ever-classic sterling silver. This beautiful collaboration premiered at the 2020 Paris Haute Couture shows.
The Hottest Mens' Pearl Necklaces
1. Baroque Pearl Necklace
A baroque pearl is an irregularly-shaped pearl. That might sound like something you'd find in a scratch and dent bin. But in the right jeweler's hands, baroque pearls can be used to create some truly stunning pieces.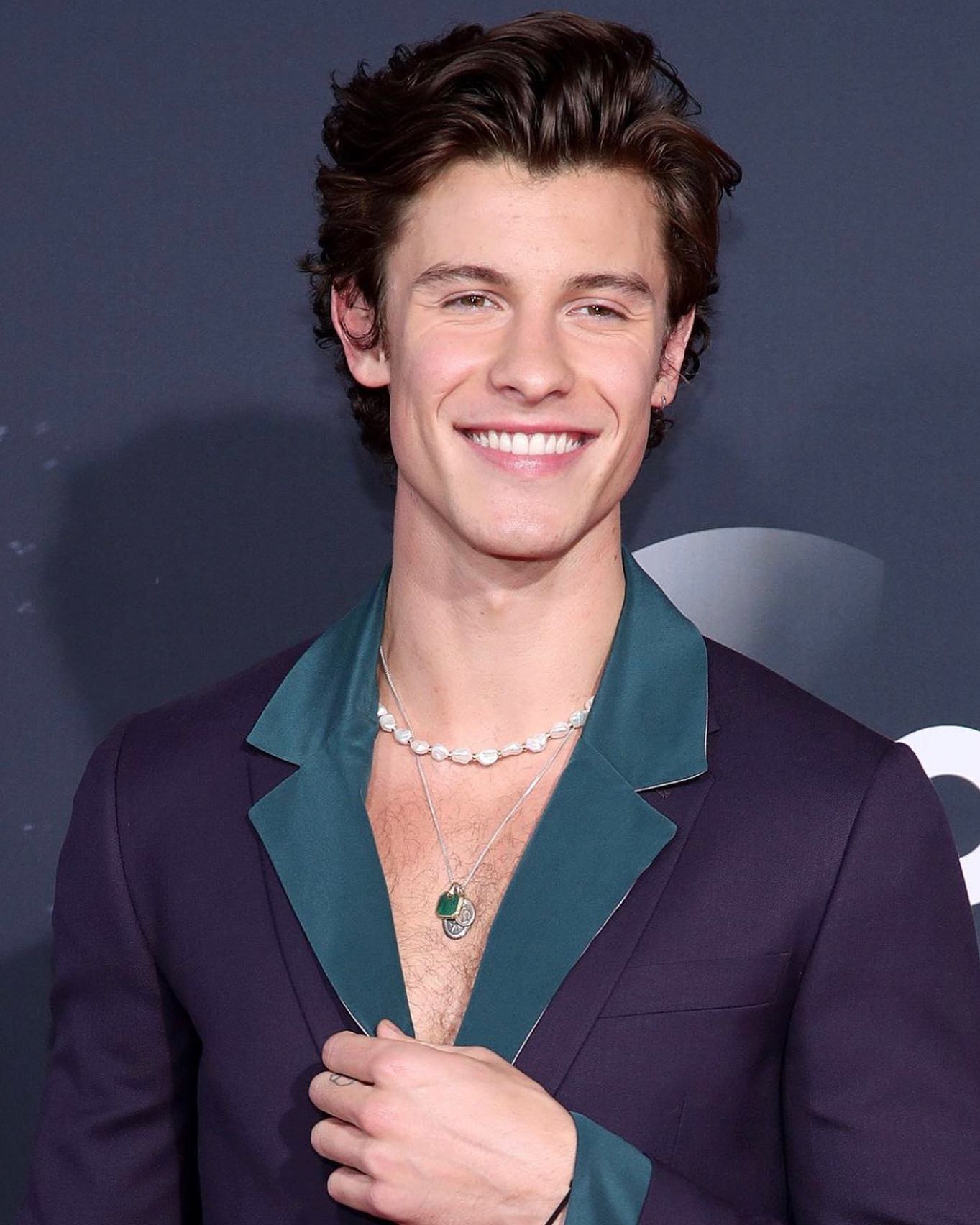 Nialaya Jewelry freshwater baroque pearl choker $156 (as showcased in the featured image), SHOP NOW.
Many male celebrities seem to gravitate toward round pearls. But Shawn Mendes has a stunning baroque pearl necklace custom-made for him by Nialaya. He typically pairs it with a blazer. That's a good choice. Since baroque pearls have a non-traditional look about them, they really stand out against more clean-cut and traditional outfits.
2. Pearl Choker Necklace
The pearl choker is the shortest of those listed -- it sits right up against the neck. And while you might think of chokers as being just for women, famous men have begun wearing them like never before.
View this post on Instagram
The trend of male musicians wearing chokers traces back further than you might think; even Elvis Presley rocked the stage wearing a choker back in the day! David Bowie also sometimes performed wearing an elaborate pearl choker. The pearl choker has also been chosen by contemporary performers. Nick and Joe Jonas wore white pearl chokers along with eye-catching brocade outfits at the 2020 Grammy Awards. In this case, the pearls weren't the focal point of the outfits, but they sure did add visual interest! Bad Bunny is probably the king of the pearl choker at the moment -- he can be spotted wearing these short-length necklaces alone or layered with longer chains. The ever-enigmatic Jaden Smith was spotted in 2020 wearing a delicate pink pearl choker, too.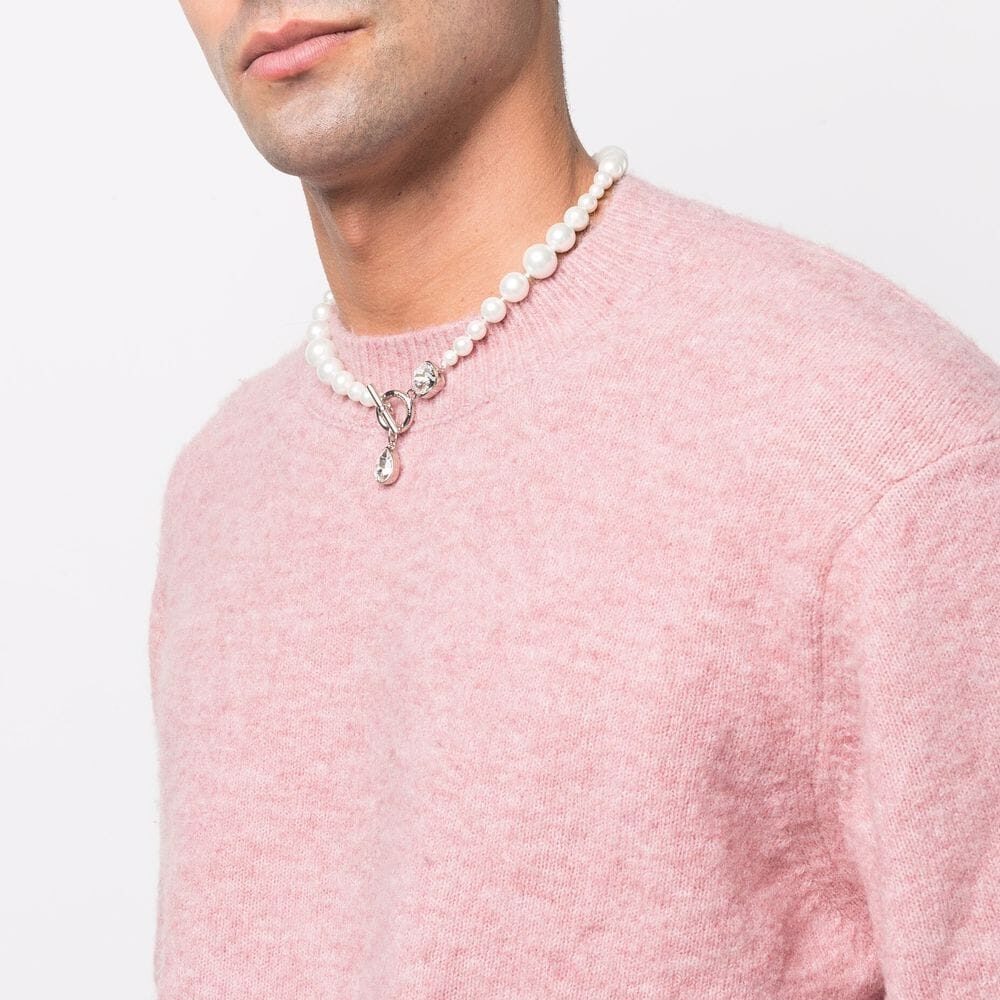 JW Anderson pearl-link necklace $650, SHOP NOW.
As these stars will show you, there are two main ways to wear a pearl choker. The first is in combination with a number of other necklaces (pearl and otherwise) to create a layered effect. The second is wearing the choker alone as a statement piece. This look is stunning when the jewelry is used to create a pop of color against a neutral outfit. For instance, when Jaden wore his pink pearl choker, it stood out against his all-black outfit.
3. Matinee Length Necklaces
View this post on Instagram
This mid-length chain is a great choice if you want something in between casual and formal. Two of the most fashionable men in the music world -- Harry Styles and A$AP Rocky -- have been spotted wearing matinee pearl necklaces. A$AP Rocky just might wear them the most often of any make celebrity -- he dons pearl necklaces for formal events and casual social media photos alike! Harry Styles has a head-turning approach to wearing pearls. While he will sometimes wear a matinee-length necklace with a more formal top, he's also been seen wearing one with a simple sweater! It's a great strategy to easily dress up a casual outfit. Harry will wear a strand of pearls with just about anything, and it looks like he's inspiring other men (famous and otherwise) to do the same.
POLITE WORLDWIDE Exclusive bear-charm freshwater pearl and 14ct yellow-gold necklace $845, SHOP NOW.
These necklaces may not be quite as common as either chokers or longer necklaces. But they do seem to be a favorite of men in the rap world. Young Paris, protege of Jay-Z, likes to pair them with white gold chains. Gucci Mane also layered four of these pearl strands under a pearl choker to the 2018 BET Hip Hop Awards. And of course, no mention of men wearing pearls would be complete without Billy Porter, star of Pose. Porter pairs his glistening pearl strands with patterned shirts, adding some classic flair to a modern style.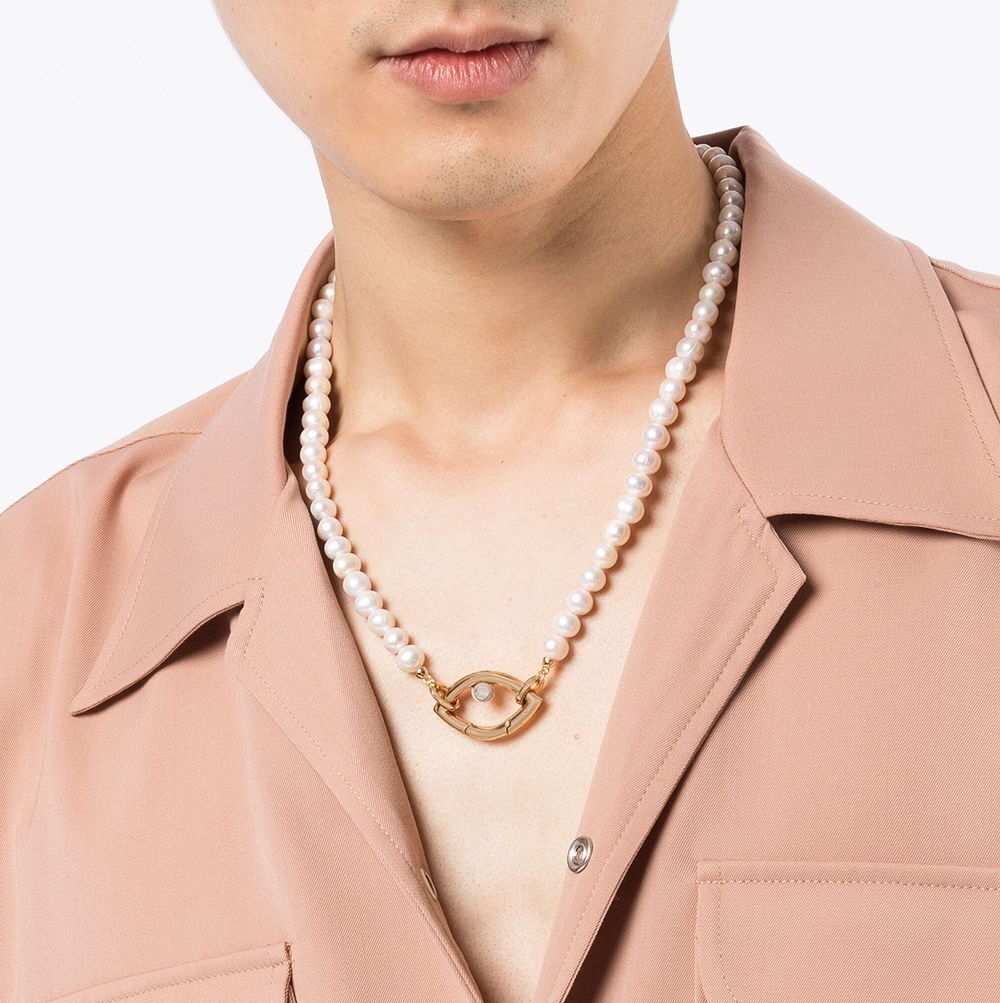 Capsule Eleven Eye pearl-embellished necklace $179, SHOP NOW.
4. Long Pearl Necklace
Men's long pearl necklaces aren't something you see every day. But Pharrell Williams made a statement on a Chanel runway in 2016 wearing a handful of them. This dramatic, gender-bending look is thought to have been the start of the growing trend of men wearing pearls. Pharrell paired his white pearls with a dark blue shirt and blue blazer, so the flowing strands were certainly the centerpiece of the outfit! Tyler, The Creator commissioned a custom-made pearl chain and matching belt in celebration of the release of his album Call Me If You Get Lost. And Steven Tyler and Randy Jackson own matching necklaces made of ebony beads and white pearls. This is a great look if you like the classic look of white pearls but want to add a little contrast!
5. Pearl Pendant Necklace
Alighieri The Remedy // Chapter I necklace $363, SHOP NOW.
Famous men everywhere seem to be adopting strands of pearls. But what about pearl pendants? Though they don't seem to have caught on quite as much, pearl pendants can be spotted around the necks of male celebrities, too. A great recent example is Jeremy L. Carver, star of Empire. He has paired a glimmering pearl pendant with a bright blue suit for a gender-bending twist on a classic look.
6. Multicolor Pearls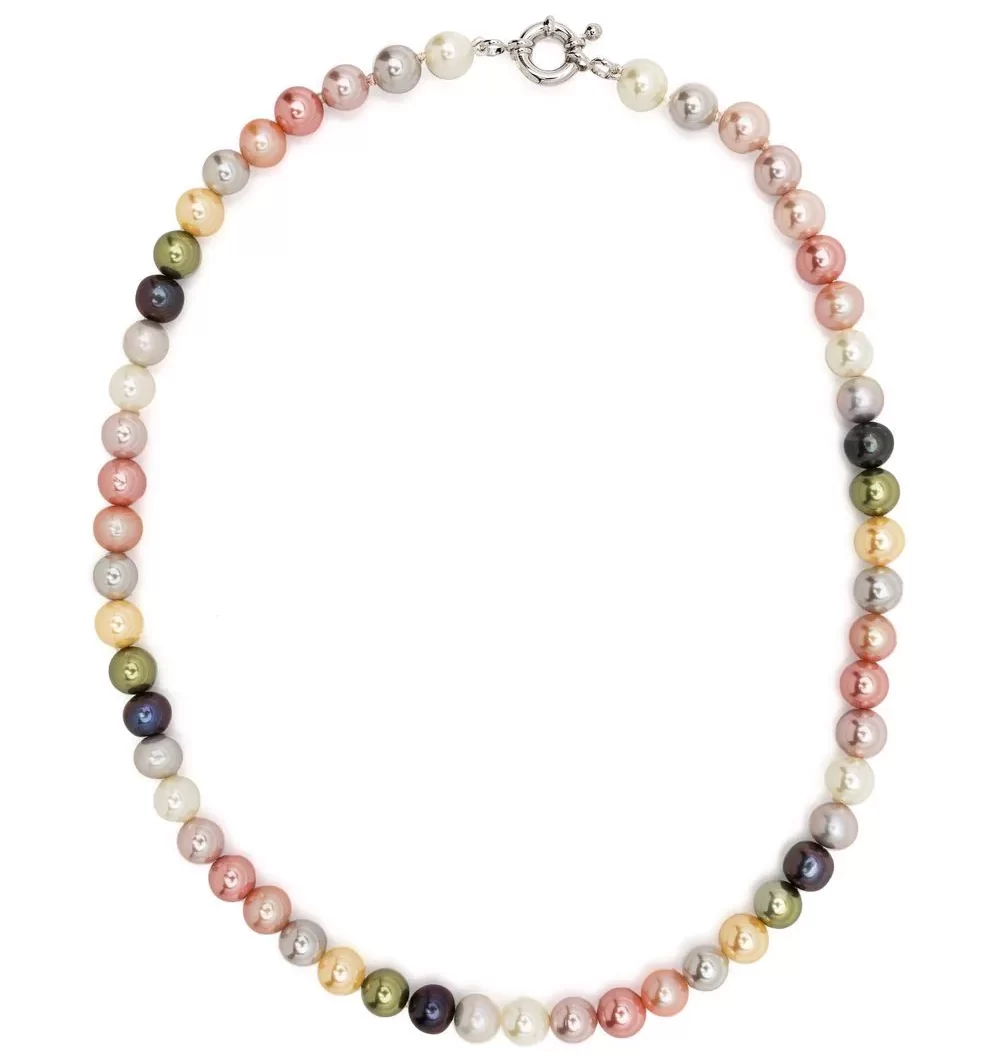 POLITE WORLDWIDE multi-pearl necklace $735, SHOP NOW.
Most of the high-profile men wearing pearls seem to stick to white ones. But as the pearls-for-men trend grows, we're starting to see other colors. Black Tahitian pearls are some of the most beautiful. They have a high-gloss, almost silvery look. You can choose a strand of all-black pearls, but a single black pearl can also be a striking accent in an otherwise-white strand. You can sometimes see A$AP Rocky wearing necklaces like this on his Instagram. Of course, for an even more gender-bending look, you can take after Jaden Smith and his lovely pink pearl choker, too.
POLITE WORLDWIDE Lover 14-Karat Gold, Enamel and Pearl Necklace $1,700 SHOP NOW.
7. Layers with Other Accessories or Multi-Strand Pearl Necklace
The layered look is certainly a dramatic one. And as you saw above, the majority of famous men who wear pearls seem to like to layer them. But there's a massive range of layering options out there. If you have a flair for the dramatic, you might take some inspiration from Pharrell's ultra-long collections of pearls. Pharrell has sometimes layered only pearl necklaces, but he also has included other jewelry types including white gold and yellow gold chains. If you're going for a more contained look, you might like Gucci Mane's approach. He starts with a choker and then includes a few different pearl strands. Each is a little longer than the next, so the end result looks like a loose stack of necklaces. Many of these looks go best with simple or monochromatic outfits. After all, when you really want to make a statement, you want all eyes on your pearls!
To conclude
More and more men are choosing to wear pearls and jewelry of all types. But the good news is that you don't have to be a celebrity to start wearing different types of men's pearl necklaces. As you've seen, there's a style option for everyone. Whether you just want a subtle glamorous touch or a striking layered statement piece, you'll find that pearls can revolutionize your wardrobe!
This article is oringinally published on thejoue.com.