Jewelry
Why choose an opal engagement ring? And our hand-picked collection
May 15, 2022
While a lot of newly-engaged couples are showing their diamond engagement rings to the world, those who prefer unconventional rings are turning to opal engagement rings. 
An opal engagement ring is unique as well as playful due to its striking fire and color change effect. They are a great choice for those who aim to be special and nontraditional.
Hyuna and Dawn's opal and diamond engagement ring
In February this year, K-pop star Hyuna posted her engagement ring on Instagram and it became a hot topic on the social media.
Her engagement ring is very unconventional. It is made of white gold, with opal as the main stone and 7 diamonds of different shapes and colors as side stones.
So what's attractive about opal engagement rings?
It is playful: Opal can flash in almost any color on it own
As the world's sixth most precious stone, opal was once described by Shakespeare as "the queen of gems", known for its special color change effect.
In fact, throughout most of human history, opal has been considered the luckiest and most amazing gemstone thanks to its excellent capability to present almost any color of the rainbow on it own.
In 75 AD, the Roman scholar Pliny pointed out: "Some opali carry such a play within them that they equal the deepest and richest colors of painters. Others…simulate the flaming fire of burning sulphur and even the bright blaze of burning oil."
He was very amazed. On this kaleidoscope-like gem, you can see the color of rubies, amethysts, emeralds and many more. It is colorful, playful and beautiful.
Indeed, opal is known as the palette of gemstones, thanks to its special color-changing effect.
It is one of a kind: Each opal stone has a unique and changeable fire 
In addition to being playful, another distinguishing feature of opal is that each color is unique due to its intense and changeable fire. It is almost impossible to find another identical opal.
From this point of view, it is even more "unique" than diamonds. That is why now more and more people are choosing opal engagement rings for their special day. Hyuna is one of them.
Opal engagement ring meaning
What does an opal engagement ring mean? Opal is said to mean love, passion, hope and creativity, which makes an opal engagement ring the perfect representation of a passionate relationship with sparkle and glow.
How much are opal engagement rings?
Depending the metal and the design, an opal engagement ring costs from $100 to $2000. Generally speaking, it is a much more affordable and unconventional alternative to diamond engagement rings.
Our hand-picked collection of opal engagement rings (price high to low)
Rosery Poetry 14K Rose Gold Ethiopian Opal Ring $359.9, SHOP NOW.
This special semi-eternity Ethiopian fire opal ring features five natural Ethiopian fire opal stones and lab created pink sapphire stones. It is a very stunning maximalist ring.
SUSANNAH KING 9kt yellow gold opal and diamond signet ring $1510, SHOP NOW.
Susannah Kings elevates a classic 9kt yellow gold signet ring reiterating it with a bright synthetic opal and sparkling diamonds for a radiant finish.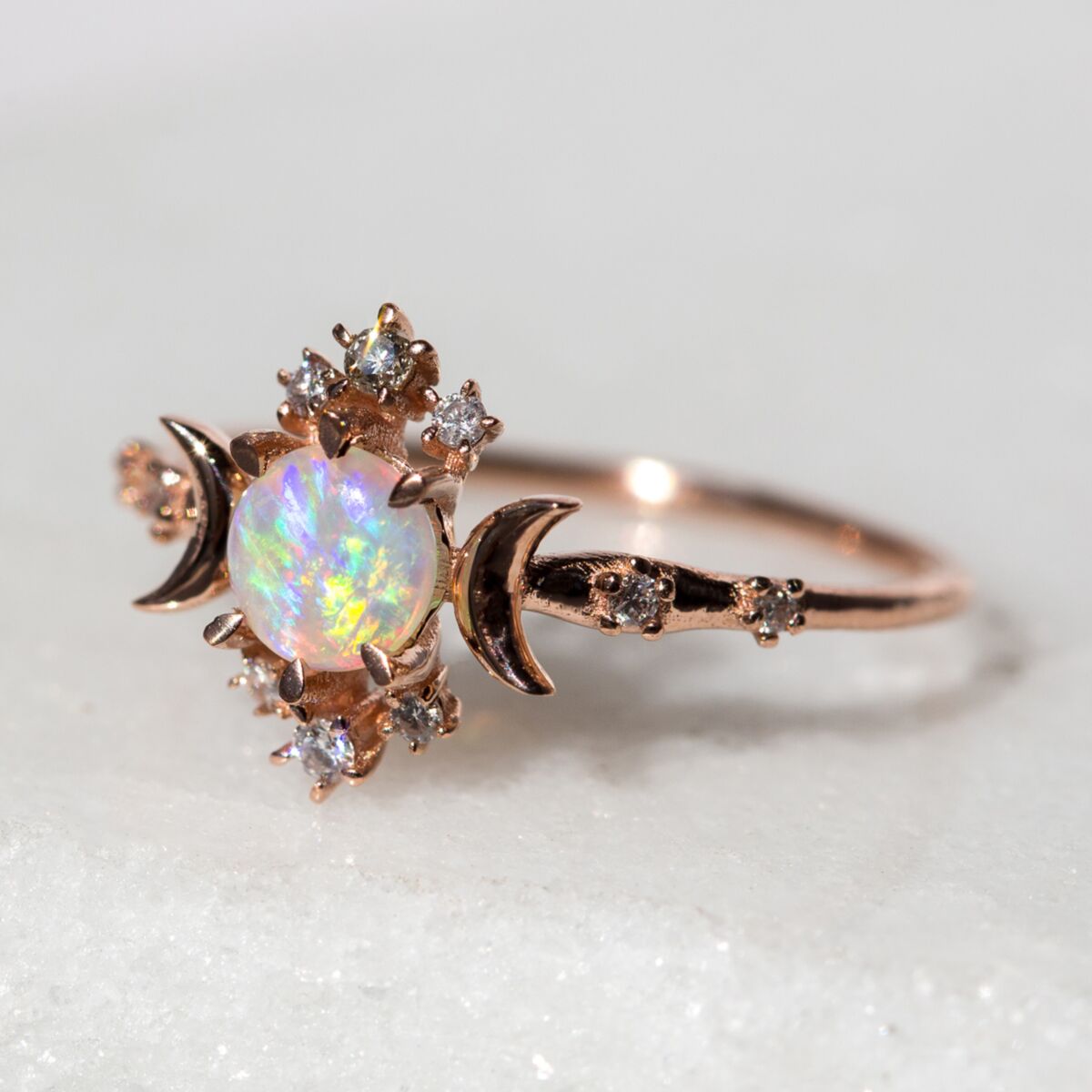 Catbird 14K Gold Wandering Star Ring Opal $1250, SHOP NOW.
A ring of epic beauty, plucked straight from the night sky. It is made of 14K gold with an Australian opal and 10 brilliant diamonds.
Blue Nile Oval Opal and Swiss Blue Topaz Halo Ring in 14k Rose Gold $1250, SHOP NOW.
This 14k rose gold ring is splendidly crafted with a vibrant oval opal framed by a double halo of blue topaz and white sapphires that cascade down the band. 
Angara Round Opal Halo Ring with Diamond Accents $872, SHOP NOW.
An iridescent opal in a prong setting is surrounded by a glimmering diamond halo. The shoulders are also adorned with diamonds for added sparkle. Crafted in 14k white gold, this round opal halo ring is simply luxurious.
WWAKE 14k yellow gold opal crossover ring $575, SHOP NOW.
WWAKE's creations are lauded for their simplicity and their spotlighting of precious and semi-precious stones. A case in point is the iridescent opal and sparkling diamond that top this slim 14kt yellow gold band.
K Best Design 10K Rose Gold White Opal Engagement Ring Set $427, SHOP NOW.
This is a beautiful opal engagement ring features a lab created white fire opal stone.
Satya Jewelry Healing Path Lotus Pink Opal Ring $169, SHOP NOW.
This 18kt gold plate ring is adorned with a lotus flower—symbol of new beginnings and full potential.
Gorjana 14K Rose Gold Opal and Diamond Trio Ring $120, SHOP NOW.
This fine ring is made of 14K rose gold, and natural gemstones. Be prepared to embrace a mix of opal and diamonds that will keep your stack interesting. 
Read More
What's special about toi et moi rings? Megan Fox, Ariana Grande, Kylie Jenner...
8 best diamond alternatives that look like diamonds but might be better!