Jewelry
Princess Diana ring worth: How much is it then and now?
Nov 01, 2022
Princess Diana's engagement ring is considered one of the most famous engagement rings in the world. The ring isn't your traditional diamond but a bold, eye-catching sapphire.
How much is the Princess Diana ring worth? With a surprising history, Princess Diana's ring is now worth much more than it once was and has inspired other non-traditional engagement ring designs.
Princess Diana Ring Worth
How much is Princess Diana ring worth? Princess Diana's sapphire and diamond engagement ring cost £47,000, or $65,000 back then. Today, the estimated worth of Princess Diana's engagement ring is £300,000 or around $413,000.
It was in an ad and accessible to the rest of the public, but only to those who could afford the hefty price tag. The cost of jewelry changes over time, especially for gemstones like sapphires or diamonds.
Today, the estimated worth of Princess Diana's engagement ring has increased greatly. Part of the reason the value has gone up so much is because of its history and prominence in the royal family.
For perspective, other Ceylon sapphire rings of a similar size may be priced around $40,000. The price of Princess Diana's ring is likely to only go up over time.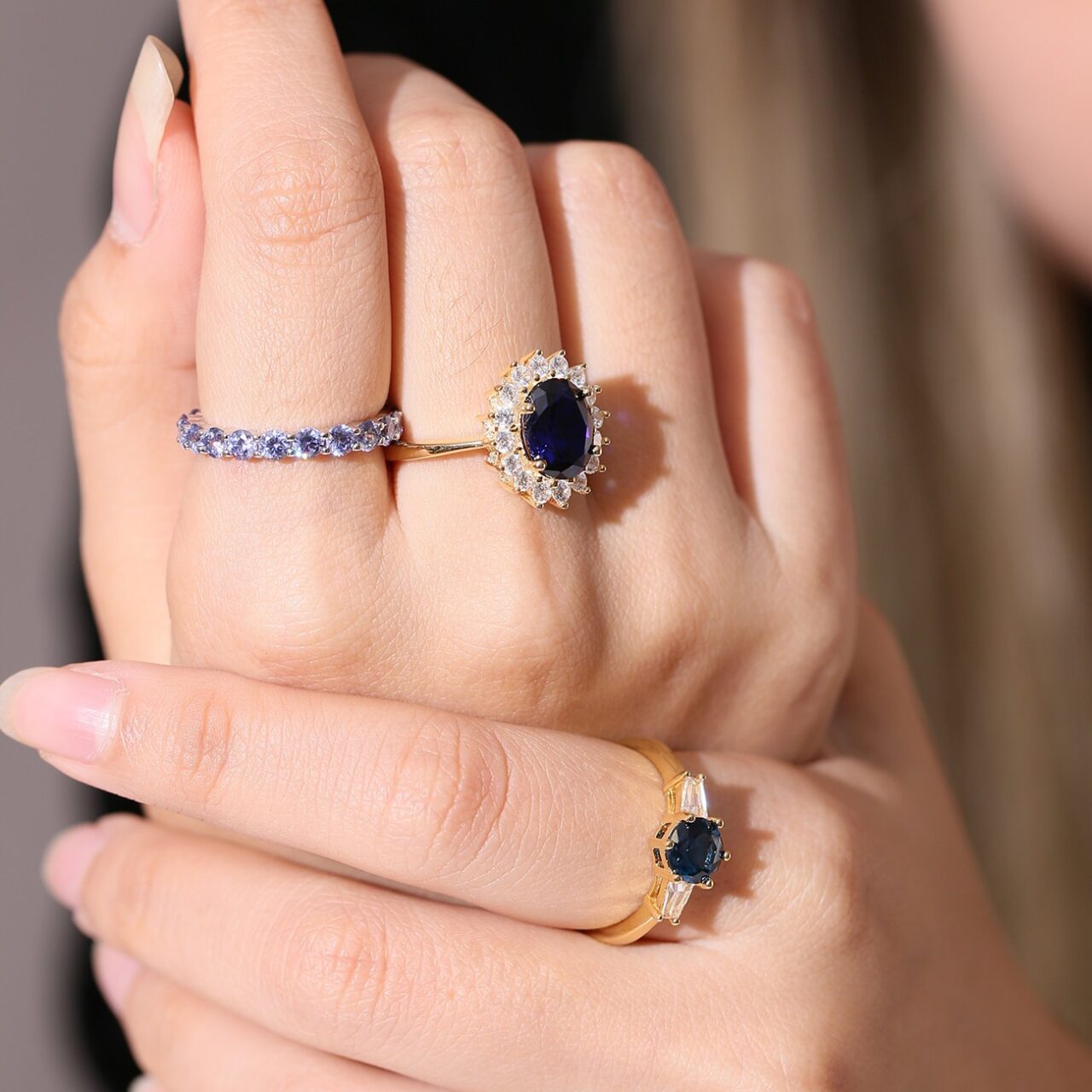 Rosery Poetry Princess Diana Sapphire Ring Replica $59, SHOP NOW.
The History of Princess Diana's Ring
Princess Diana's engagement ring dates back to February 1981 when Prince Charles announced their engagement. Diana picked up the ring herself and opted to break tradition with the sapphire piece.
Most royals at the time chose one-of-a-kind, custom-made rings. However, Princess Diana's ring was in a magazine and accessible to the public.
Diana wore the ring throughout her life, even after her official separation from Prince Charles. Supposedly, she was extremely attached to the ring.
It was made by a designer named Garrard and inspired by an 1840 sapphire brooch Prince Albert commissioned for Queen Victoria. The ring was declared an heirloom of the crown when Queen Victoria died and was later worn by Queen Elizabeth at various times.
The sapphire ring was one of many that Prince Charles showed Diana in preparation for their engagement. Charles chose the ring because of the resemblance to his mother and grandmother's brooch, but Diana is said to have chosen it because she thought it matched her blue eyes.
What Does Princess Diana's Ring Look Like?
At its center is a 12-carat oval-shaped Ceylon sapphire, which is from Sri Lanka. The gemstone is flanked by 14 round solitaire diamonds with an 18-karat white gold setting. Ceylon sapphires are unique with a medium blue hue, which is what caught Princess Diana's attention.
Princess Diana had a stunning jewelry collection, and her engagement ring was a gorgeous addition.
Later on, the engagement ring was too big for Kate Middleton's finger when William proposed to her, so she had small platinum beads added to the inside of the band to ensure a proper fit.
Who Has Princess Diana's Ring Now?
Upon Diana's death, her sapphire ring was passed down to Prince Harry, who inherited his mother's jewelry collection alongside his brother William. Prince Harry offered the statement piece to his brother so that William could propose to his now-wife, Kate Middleton, in 2010.
William proposed to Kate in Kenya, Africa, after carrying the ring on his person for three weeks to ensure it wasn't lost. William chose Kenya because it was sentimental to him as the place where his father took him and his brother soon after their mother's death.
William has expressed how the ring is a way to keep his mother close, even though she is gone. Kate also showed her appreciation by wearing a royal blue dress, matching the ring, in a tribute to Princess Diana and the outfit she wore for her own engagement announcement.
The symbolism of Princess Diana's Engagement Ring
The ring has become a symbol of independence. Princess Diana was known to forgo tradition in favor of forging her own path. Her engagement ring was a bit rebellious on its own, as the royal family typically wore pieces that were custom and not accessible to the less-prestigious public.
Furthermore, Diana didn't take the ring off after her divorce, which is usually what happens after a separation.
Sapphires themselves also have a thoughtful meaning. The gemstone symbolizes virtue, faithfulness, and sincerity. And they symbolize much more thanks to Princess Diana's infamous sapphire engagement ring.
Today: Princess Diana Replica Rings
Rosery Poetry Princess Diana Sapphire Ring $59, SHOP NOW.
Today, many people have since tried to remake the ring or purchase Princess Diana replica rings out of their admiration for Princess Diana.
Regarding the main stone, sapphires are the most popular option. They are hard and durable, so they're less likely to crack, chip, or break with everyday wear. They also offer a rich, beautiful hue that stands apart from your traditional diamond.
Apart from blue sapphire, various gemstones look great in a Princess Diana ring, like ruby, pink sapphire, aquamarine, amethyst, and so on.
Rosery Poetry Pink morganite engagement ring Princess Diana replica ring $59, SHOP NOW.
In addition, non-diamond rings are also great options. You can choose diamond alternatives like moissanite, white sapphire, crystal, or 5A cubic zirconia. They are much more affordable and can offer just as much sparkle when cut well!
Read More
What's special about toi et moi rings? Megan Fox, Ariana Grande, Kylie Jenner...
Why choose an opal engagement ring? And our hand-picked collection