Jewelry
What is a spinner ring? What is a spinner ring used for?
Oct 29, 2022
The spinner ring has many names, including the fidget ring, anxiety ring, worry ring, and meditation ring. It is perfect for individuals who find the action of moving its parts calming.
What is a spinner ring?
Unlike regular ones, a spinner ring has movable parts that the wearer can fidget with to achieve a calming effect. It is a piece of jewelry worn on the finger for stress relief and soothing purposes.
Rosery Poetry Moon and star anti-anxiety spinner ring $24.9, SHOP NOW.
What is a spinner ring used for?
The spinner ring works by applying the concept of fidgeting to relieve feelings of stress. It is a fun ring with loose layers that are easy to play around with. 
1. It gives one an easily accessible item to fidget with
Fidgeting is a normal and involuntary response to stress. It is a common coping mechanism that people use to find relief from rising stress hormone levels. Fidgeting gives one a calming effect that can alleviate worry and enable one to focus on the moment.
The fidget spinner ring gives one an easily accessible item to fidget with when looking for comfort in stressful situations.
2. It is designed to counter stress and anxiety
The spinner ring consists of a regular ring that normally sits on the finger and several small outer rings that sit loosely on the center of the first ring and move freely. It enables one to carry out a calming activity when dealing with stress.
3. It helps individuals to slow down and be focused 
Stressful situations cause anxiety, worry, agitation, and other emotions which make the mind wander. Individuals find it hard to focus on one thing because their minds are bombarded with multiple issues simultaneously.
Spinner rings help deal with a chaotic mind by enabling one to slow down and center themselves. Fidgeting with the rings helps a person approach stressful situations with a calm mind.
4. It is a beautiful piece of jewelry
Designers approach these rings in different ways by adding their unique touches. They can vary the type of metal they use, the appearance, the shape, or the texture of the rings to create distinctive jewelry pieces.
How to use a spinner ring?
You use the fidget spinner ring by moving the loose rings to feel calm. Taking deep breaths as you spin the rings can give you a more relaxed feeling. It enables a person to move their fingers and release the tension they may be feeling. 
What finger do you wear a spinner ring on?
You can wear a spinner ring on any finger based on preference. The goal is to have the ring easily accessible for fiddling with when necessary.
Classic designs of spinner rings
The spinner ring comes in various designs based on the designer's or client's preferences.
1. The band
One common design is the band, which consists of a large inner ring and small loose outer rings (the spinners). The inner band bends slightly at the ends to prevent the spinners from falling off.
This design has a subtle appearance because it is based on the traditional band ring. However, a wide band spinner ring can be large, making it difficult for discretion.
2. The charm 
The charm ring is one of the most common designs of the spinner ring. The ring comes with a charm that spins smoothly and quietly. Fidgeting with the charm makes it spin while still attached to the regular ring.
A pro of the charm ring is that it usually has symbolic significance, thus allowing one to express themselves. It can be minimal in design, making it easy to wear daily. 
3. The bead ring
The bead ring is another common design in the market. It consists of a string of beads that move freely when fiddled with. The beads come in different shapes, sizes, and colors, based on individual preference.
The design is often simple and discreet for daily wear. So if you want the benefit of an anxiety ring without drawing attention to yourself, it's a great choice.
Common materials of spinner rings
Spinner rings come in different materials but are usually metallic.
1. Stainless steel
Stainless steel is one of the most common materials used. This silver-colored metal is popular in the jewelry industry because it is simple, durable, easy to work with, and causes fewer allergic reactions.
It is an excellent choice for people who need a subtle ring appropriate for daily activities and professional settings.
However, a con of stainless steel is that it can tarnish with continued exposure to the environment. Additionally, it isn't easy to resize for a proper fit without the right tools.
2. Copper
Copper is another common material used for spinner rings. It is a great choice because it is durable and has a uniquely reddish brown color. It is also affordable and easy to work with. However, its main con is that it tends to fade with time and lose its vibrant shine and polish.
3. Silver
Silver is similarly common in making spinner rings because of its simple, delicate, and elegant look. It is often more expensive than other metals but still a popular choice in the jewelry industry.
However, silver often scratches with time because it is a soft metal. Additionally, the metal can change color with time due to environmental exposure.
Where can you get a spinner ring?
If you want to experience the benefits of a spinner ring, Rosery Poetry is a great place to find your perfect choice. We stock a variety of spinner rings and will guide you in finding a spinner ring that fits your aesthetic.
Some of the selected spinner rings are:
1. Anxiety bead ring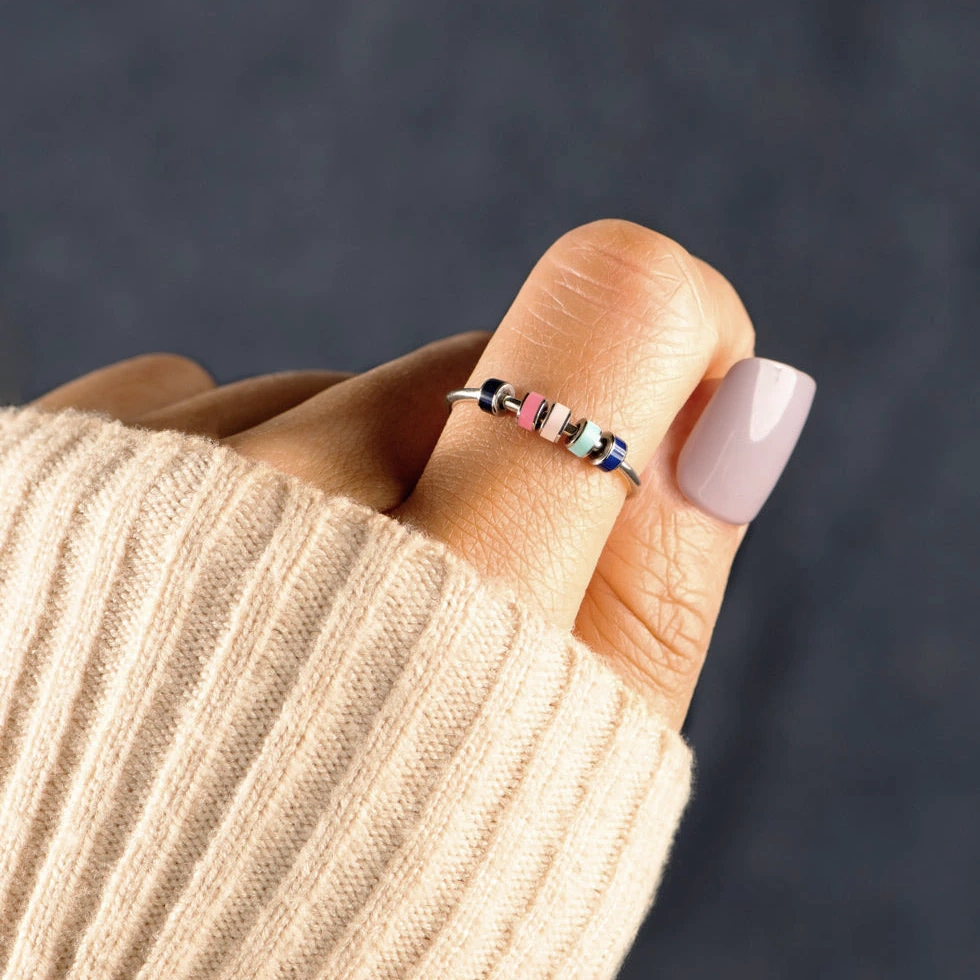 Rosery Poetry Anxiety bead ring $26.9, SHOP NOW.
This exquisite ring will calm you with its simple design and movable beads. It has the benefit of being subtle and low-profile. So if you want the benefit of an anxiety ring without drawing attention to yourself, it's a great choice.
2. The anxiety band ring
Dandelion spinner ring anti-anxiety ring $26.9, SHOP NOW.
This elegant ring is a smooth band with beautiful impressions and an easy-to-move outer ring. It is a great choice if you prefer a larger band that you can easily see spinning! If you get tense or feel tempted to pick at your nails or skin, just give the ring a gentle nudge and watch the band spin.
3. Daisy anxiety ring
Rosery Poetry Daisy anxiety ring $24.9, SHOP NOW.
This pretty ring features a cheerful spinning daisy atop a 14K gold-plated copper ring. It's a great choice if you prefer a larger charm that you can easily see spinning! If you get tense or feel tempted to pick at your nails or skin, just give the petals a gentle nudge and watch the daisy spin like a pinwheel.
This ring is free of lead and nickel, so it's unlikely to cause any sort of allergic reaction. It's a beautiful yet affordable way to bring some peace and joy to your life!
4. Gold Spinner ring
If you want something with a bit of luxury, a gold spinner ring may be a perfect choice. The outer band, crafted from 14K gold, spins effortlessly, creating a calming effect that can help alleviate anxiety and stress. And if you're wondering where to find this stunning piece, Dolphin Galleries is the perfect place to start. Their collection boasts a variety of high-quality gold spinner rings, each designed to add a touch of elegance and sophistication to any outfit.
To conclude
Spinner rings are great multipurpose jewelry pieces that accentuate one's appearance while helping with stress relief. Find your perfect spinner ring from our collection at Rosery Poetry.
Read More
Mood ring colors and meanings: What is a mood ring?
Snake ring meaning, popularity, and our recommended pieces
What's special about toi et moi rings? Megan Fox, Ariana Grande, Kylie Jenner...