Jewelry
What is a tennis bracelet? How much? How to wear it?
Jul 27, 2022
Apart from the diamonds, the tennis bracelet itself is an enduring style, popular since the 1920s when they were called "eternity bracelet".
Tennis bracelets became popular again and hot its name since the 80s because of American professional tennis player Chris Evert. 
What is a tennis bracelet?
Roberto Demeglio 18kt white gold diamond tennis bracelet $4132, SHOP NOW.
The beloved tennis bracelet is a classic piece of jewelry with an iconic design, often using diamonds as main stones.
In its simplest form, a tennis bracelet consists of a string of diamonds of the same size, cut, color and clarity, arranged side by side in a simple, dense setting, forming a full and soft bracelet that fits comfortably around the wrist.
Why is it called a tennis bracelet?
Tennis bracelets have become popular again since the 80s because of American professional tennis player Chris Evert. She was wearing an expensive diamond bracelet at the US Open in 1978, but the bracelet suddenly fell off while she was playing.
Chris immediately asked to stop the match until she found the bracelet, so the whole audience watched her looking for the diamond bracelet, which was probably the best commercial ever!
Since then, this kind of bracelet has been named tennis bracelet.
"I never got one free tennis bracelet, by the way, and I feel like I kind of had something to do with it [the name]!" she told AOL in 2018. "I just dropped my bracelet on center court at the US Open, and that's when they called it the tennis bracelet."
Chris is a legend. She has won the Grand Slam women's singles titles 18 times, including 7 French Open women's singles titles. She has a career record of 1,304 wins and 144 losses, a winning percentage of 90%, the second highest of any professional tennis player.
How much is a tennis bracelet?
The price if a tennis bracelet really depends on the materials. If you choose a white gold diamond tennis bracelet, it might cost you over $10,000. In the meanwhile, if you go with diamond alternatives like moissanite or white crystals, it costs less than $200.
How should a tennis bracelet fit?
For a more comfortable experience, it is recommended to choose a bracelet that will fall easily where your wrist and hand meet. If you can easily insert a finger between your wrist and bracelet, then this would the perfect size for you.
The length of a tennis bracelet is relatively easy to adjust, so you can have your jeweler add or remove some knots to get the most matching size for you.
How to wear a tennis bracelet?
1. Wear the bracelet alone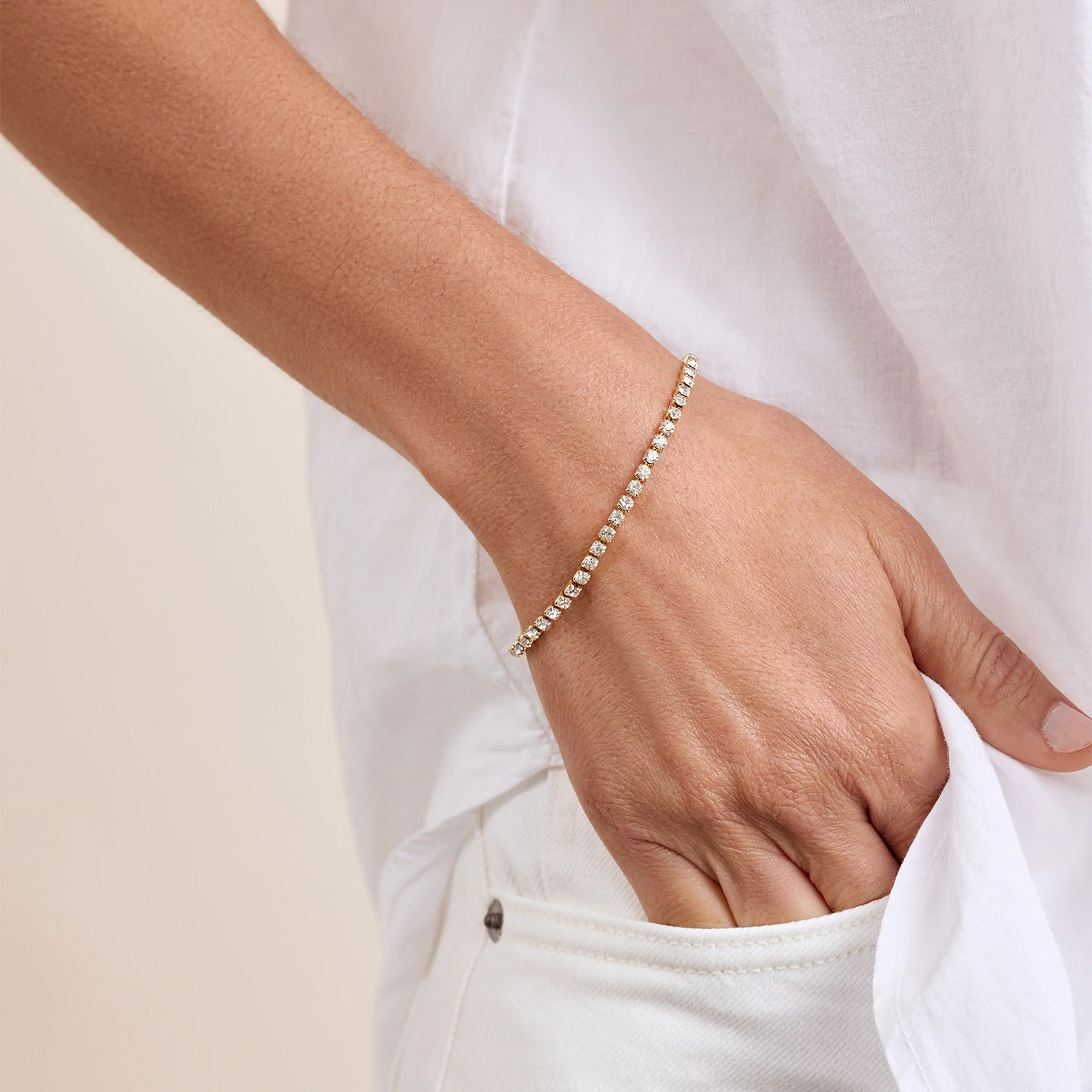 Gorjana Parker shimmer clasp bracelet made of genuine white crystals $65, SHOP NOW.
Tennis bracelets are classic in style and when set with sparkling stones such as diamonds, they are great to wear on their own for a variety of occasions. You can never go wrong with such an iconic piece of jewelry.
2. Style with a metal bangle
Since layering or stacking jewelry is still popular, you may also want to stack your tennis bracelets with other bracelets. If you want a more modern look, you can pair the bracelet with a metal bangle.
3. With tennis bracelets of a different color, size or shape
If you prefer a vintage look, consider stacking multiple tennis bracelets. But be careful to choose bracelets of different colors, sizes or shapes, and preferably no more than three. Otherwise, they might look cheap.
4. Pair it with a watch
How to wear a tennis bracelet with a watch? One of the most popular ways to wear a tennis bracelet is to pair it with a watch. The important thing to remember is that the color of the watch must match that of the tennis bracelet. In addition, wear the watch slightly further up your wrist.
How to choose a diamond tennis bracelet?
1. Uniformity
A beautiful diamond tennis bracelet requires beautiful diamonds. Each diamond in the tennis bracelet must not only be of high quality, but also of the same size, weight, cut, color and clarity, without any deviation.
2. Color of diamonds
Usually, a classic tennis bracelet will be set with colorless diamonds. However, if we are somewhat limited, then there are several factors that should be considered when choosing the color of diamonds.
If the metal used for the tennis bracelet is yellow or rose gold, which has a warm tint, then with a limited budget, we can lower the standards for color and pair the metal with yellowish diamonds, like a K to M grade. Such a diamond tennis bracelet can still have an amazingly beautiful look.
However, if you choose white gold or platinum, then the yellow tones of the diamonds will be very visible and not very pleasant. In this case, we should try to choose diamonds with a higher color grade, such as colorless or nearly colorless.
All other conditions being the same, the higher the grade of colorless diamonds, the more expensive, they are, while the difference in appearance is almost imperceptible. Therefore, diamonds with a grade of F or higher are the best choice.
Anita Ko Hepburn 18kt gold diamond tennis bracelet $11075, SHOP NOW.
3. Carat of diamonds
In terms of carat, we think you can try from 2-3 carats to 5-7 carats. A 2-3 carat diamond tennis bracelet looks delicate and elegant, while a 5-7 carat diamond tennis bracelet looks dazzling and luxurious.
It is not recommended to choose a 1 carat diamond tennis bracelet, because it looks too thin on the wrist and it is still quite expensive. You might as well wear a white gold bracelet without diamonds.
4. Clarity
Since the size and carat weight of each diamond is small, it is difficult to distinguish the clarity of a diamond without professional equipment.
Especially when the diamond is less than 0.5 carats, flaws of SI1 or SI2 diamonds are not visible to the naked eye.
In this case we should try to select diamonds without flaws or with flaws that are invisible to the naked eye so that they will not affect the beauty of the bracelet and we can keep the bracelet within the budget.
5. Security
When purchasing a diamond tennis bracelet, be sure to pay special attention to the clasp. Such an expensive piece of jewelry should be equipped with a double locking secure clasp to prevent it from falling off and getting lost.
A new trend to go with colored gemstones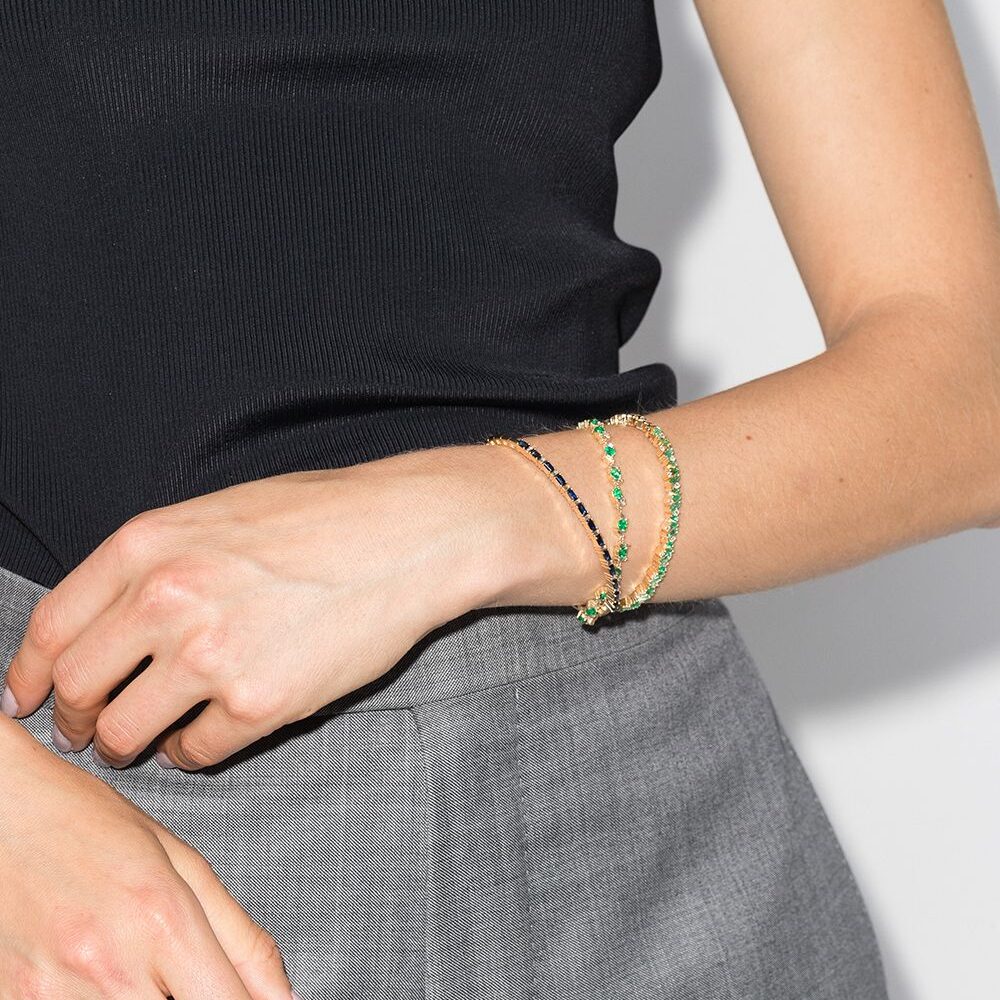 Suzanne Kalan 18kt yellow gold, emerald and diamond tennis bracelet $15600, SHOP NOW.
Now that consumers are turning to a more modern style and non-traditional gemstones, colored diamonds and gemstones are gaining increasing popularity.
While traditional tennis bracelets are often set with colorless diamonds, vibrant colored gemstones can create a more eye-catching, modern look.
Many jewelers, for example, even pair colorless diamonds with other precious stones such as sapphires or emeralds, so that the two can create a contrast in a tennis bracelet.
The moissanite tennis bracelet as an alternative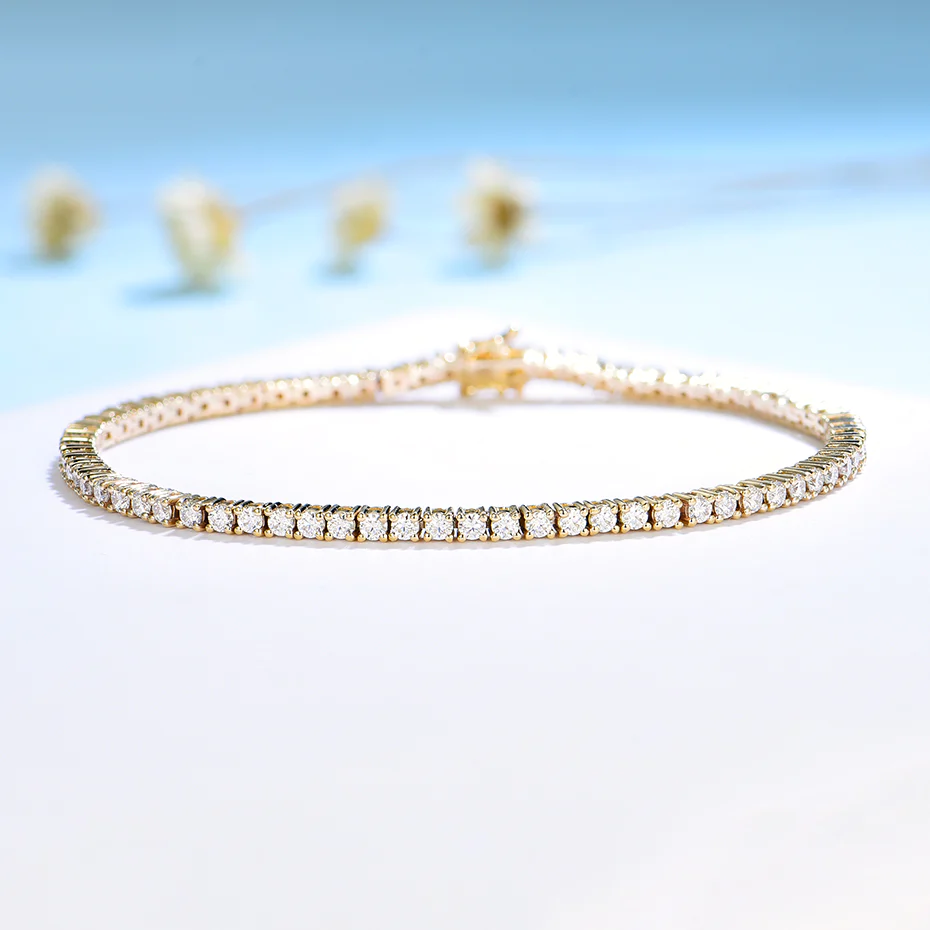 Rosery Poetry Moissanite tennis bracelet $189, SHOP NOW.
Moissanite has become the most popular diamond alternative. It is the gemstone most similar to the natural diamond. Its appearance and physical properties are so similar to those of a natural diamond that it is difficult to distinguish with the naked eye.
The advantage of moissanite over diamonds is that it shines brighter and has a more stunning fire while costing 1/10th of the price of diamonds!
Moissanite also has a Mohs hardness of 9.25, just below that of diamonds (10) and higher than any other gemstone. This high hardness makes it unlikely to be scratched or cracked and will last forever.
Apart from the reasons mentioned above, moissanite doesn't come with the ethical concerns that surround diamonds, which makes it the best diamond alternative.
Conclusion
Many luxury jewelry brands like Tiffany, Cartier, Harry Winston have launched their tennis bracelet collections. This is indeed a simple but classic style.
If you think diamond tennis bracelets are too expensive, try diamond alternatives like moissanite instead. In short, you don't have to worry about this bracelet going out of style.
If you're looking to elevate your accessory game with luxurious and stylish bags, these Top 6 Must-Have Luxurious Ounass bags offer a wide range of options to suit any taste or occasion.
Read More
8 best diamond alternatives that look like diamonds but might be better!
What's special about toi et moi rings? Megan Fox, Ariana Grande, Kylie Jenner...