Jewelry
What is an anxiety ring? Where can I get an anxiety ring?
Apr 26, 2022
You've heard of fidget spinners. But anxiety rings are the new craze taking TikTok (and the world) by storm. These rings fit onto your finger but have an attached spinning charm or spinning band. Any time you get stressed or anxious, you can simply spin it with your finger.
If you haven't tried an anxiety ring before, you might not get how mesmerizing they can be. And best of all, there's a design for just about any taste!
What's an Anxiety Ring? 
You might hear these rings called "spinner rings", "fidget rings" or " anti anxiety rings." The idea is that the spinning of the band or charm will help you relax much like a fidget spinner or other fidget toy will. Many of them are shaped like planets, flowers, butterflies, or other things that inspire pleasant thoughts.
Rosery Poetry Butterfly anxiety ring $24.9, SHOP NOW.
Anxiety Rings: A New Trend
If you're familiar with TikTok, you know this app has been responsible for catapulting a wide variety of products to fame. Among TikTokers who create content related to health and wellness, anxiety rings have become very popular.
Of course, it's not a great idea to blindly trust what you see on social media, especially when it comes to health. But in the case of anxiety rings, even mental health experts have stated that they believe these rings can help to calm you in stressful situations.
What Are Anxiety Rings Made of? 
You can find anxiety rings in just about any material. On the more affordable end, stainless steel is a popular choice. Steel rings also have the advantage of not wearing or fading in color over time.
For a slight step up, you might opt for a sterling silver anxiety ring. Silver is a material that looks especially beautiful, and even more so if you keep it polished!
Plated spinner rings are another good choice. Often, the base metal is copper or a similar metal. It's plated in gold or silver. This is a great choice if you want the look of real silver or gold but would rather not spring for the cost of a solid gold or silver ring. You may be able to find solid gold rings made by boutique manufacturers, but these are a lot more expensive.
Does It Work? Any Advantages?
Anxiety rings distract you from thinking about what makes you anxious and therefore help to calm you down in stressful moments.
Anxiety rings aren't only good for the mental effects of anxiety, though. If you struggle with anxiety, you might be prone to skin picking, nail biting, etc. By providing a healthier distraction, these rings can help you stop destructive habits.
Anxiety rings do have a couple of advantages over other fidget toys -- since the ring stays attached to your finger, it's easier to take with you wherever you go. Plus, it isn't obvious that it's something designed to help with anxiety. Each spinner ring is a beautiful piece of jewelry in its own right!
What Designs Do They Come In?
Anxiety rings come in a fair number of materials, but they come in virtually endless designs. If you want something that will be very effective at centering you and soothing anxiety, try to choose something that aligns with your interests and who you are as a person. Here are some of the many designs you can choose from:
Butterflies -- Butterflies are a universal symbol of joy, and it's not unusual to find a ring with a spinning butterfly charm on the top! The pointed edges of the wings make it especially satisfying to spin.
Flowers -- Like butterflies, flowers are joyful things. Some anxiety rings have a spinning daisy or sunflower charm at the top. Others have an inlaid, spinnable band decorated with flowers.
Planets -- Outer space inspires wonder and often peace. Some rings have a spinnable planet charm, and there are also some great-looking ones with a spinnable, space-themed middle band.
Evil eye -- The evil eye has recently enjoyed a resurgence in popularity in the jewelry world. It's a traditional talisman used to spiritually protect the wearer, so it's an ideal choice for a ring designed to protect you from the negative effects of anxiety.
Chain link -- This is a great design if you prefer something simple yet rugged. These rings feature an inlaid, chain-link band that you can spin with your finger or thumb.
Check Out These Anxiety Rings!
If you're interested in an anxiety ring but aren't sure where to start, check out these three options:
Moon and Star Anxiety Ring
Rosery Poetry Moon and star anti anxiety ring $24.9, SHOP NOW.
This beautiful, shiny ring is made of titanium stainless steel. It has a rotating central band that spins quietly. If you find yourself in a tense situation, simply spin it with your thumb or a finger and watch the black-etched moons and stars circle your finger.
Though it's affordable, this ring is hypoallergenic and free of lead and cadmium. It's also waterproof, so you don't have to worry about rust or damage if you wear it swimming, in the shower, etc.
This ring has the benefit of being subtle and low-profile. So if you want the benefit of an anxiety ring without drawing attention to yourself, it's a great choice. Like the other anxiety rings mentioned here, it has the benefit of helping you improve concentration while avoiding skin picking, nail biting, and other harmful coping mechanisms.
Daisy Anxiety Ring
Rosery Poetry Daisy anxiety ring $24.9, SHOP NOW.
This pretty ring features a cheerful spinning daisy atop a 14K gold plated copper ring. It's a great choice if you prefer a larger charm that you can easily see spinning! If you get tense or feel tempted to pick at your nails or skin, just give the petals a gentle nudge and watch the daisy spin like a pinwheel.
This ring is free of lead and nickel, so it's unlikely to cause any sort of allergic reaction. It's a beautiful yet affordable way to bring some peace and joy to your life!
Rotatable Planet Anxiety Ring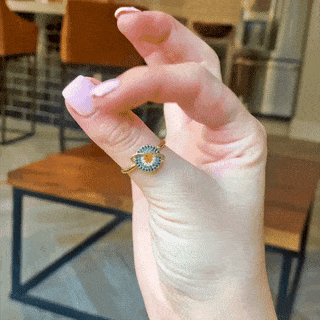 Rosery Poetry Rotatable planet anxiety ring $24.9, SHOP NOW.
If you want to let the magic of outer space calm you down in moments of intense anxiety, this spinning planet ring is a great choice. The yellow, blue, and white planet is encircled in its own delicate gold ring. And when you need a healthy distraction, it spins atop the ring on your finger.
This planet ring comes in your choice of color: you can choose gold or silver-plated copper. If you want a pretty yet affordable piece of jewelry that doubles as a useful tool, this is a great choice!
For more anxiety rings, check out our anxiety ring collection.
Conclusion
While you probably don't want to solely rely on them to treat your anxiety, anxiety rings are a great on-the-go tool for grounding yourself and calming anxiety. And since they're beautiful, affordable, and easy to find, there's no reason not to try one! 
Read More
Mood ring colors and meanings: What is a mood ring?
Snake ring meaning, popularity and our recommended pieces
What's special about toi et moi rings? Megan Fox, Ariana Grande, Kylie Jenner...