Jewelry
Princess Diana Aquamarine Ring: Why the Divorce Ring?
Feb 15, 2023
Princess Diana was a popular member of the British royal family, recognized as an international icon. She was King Charles III's first wife and the mother of Prince William and Prince Harry.
Diana was born in 1961 and passed away in 1997 in a car accident. Her memory lives on today as she stood out for her generosity, beauty, activism, and glamour.
Princess Diana was also a fashion icon. She wore beautiful gowns and jewelry in a range of colors. Blue was one of her go-to options, including her sapphire engagement ring and this large aquamarine cocktail ring: the Princess Diana aquamarine ring.
Princess Diana Aquamarine Ring
Princess Diana's aquamarine ring features a 13-carat emerald-cut aquamarine with a small solitaire diamond on each side, set in 24-carat gold. The ring is larger in design, showcasing a beautiful light blue hue.
When Diana wore the ring, she highlighted the ring's color by wearing similar hues throughout her outfits and other accessories.
Princess Diana Aquamarine Ring Value
How much is the Princess Diana aquamarine ring worth? The estimated value of Princess Diana's aquamarine ring is around $90,000.
Who Did Princess Diana Get Her Emerald-Cut Aquamarine Ring From?
A British jewelry brand called Asprey created the aquamarine ring in 1996, which was then gifted to Diana by her friend Lucia Flecha de Lima. Sources claim Diana was extremely close to Lucia Flecha de Lima, especially during her divorce. She was said to be like a "second mother" to the princess.
People often talked about Diana's blue eyes, which she seemed to highlight by incorporating the color blue throughout her outfits and jewelry. She showcased a variety of blue stones throughout her life, including her blue sapphire engagement ring and the aquamarine ring.
Meaning Behind the Princess Diana Aquamarine Ring: The Divorce Ring
Again, the aquamarine ring was created in 1996. 1996 was also the year that Princess Diana and Prince Charles finalized their divorce. There are claims that the aquamarine ring was commissioned to replace Diana's sapphire and diamond engagement ring. As a result, many refer to it as the "divorce ring."
While the aquamarine ring could have been a replacement for her engagement ring, she still wore the sapphire piece. For example, she wore the sapphire ring at a Met Gala event in December 1996, a few months after her divorce.
When Diana Wore the Aquamarine Ring?
There are two well-known instances when Princess Diana wore the aquamarine ring.
The first public instance was on October 31, 1996, when she attended a fundraising gala at the Sydney Entertainment Centre for the Victor Change Cardiac Research Institute.
Diana wore the ring alongside other accessories with diamonds, pearls, and aquamarine gems. Her five-strand pearl bracelet featured a rectangular aquamarine clasp. She also donned an electric blue dress with a coordinating bag and shoes.
The second public display of the ring was in June 1997. The Princess of Wales attended a pre-auction party at Christie's in London. The part was to celebrate an auction where Diana auctioned off 79 of her royal gowns and raised $3.25 million for the Royal Marsden Hospital Cancer Fund and AIDS Crisis Trust.
She wore a light blue Catherine Walker dress, Qatari pearl drop earrings, and a diamond tennis bracelet. In this instance, she stacked a thin diamond band on top of the blue stone.
This second appearance of the aquamarine ring was just two months before Princess Diana died.
Who Has the Ring Today?
So where is the ring today? The ring appeared on Meghan Markle's finger in May 2018 at her and Prince Harry's wedding reception.
Meghan changed into a white Stella McCartney gown and swapped her jewelry. She wore Cartier diamond earrings and the aquamarine ring. While the ring was a beautiful light blue, Meghan also wore baby blue shoes that seemingly matched the blue car she drove away in with Prince Harry.
Meghan Markle wore the ring again at a dinner in Tonga in October 2018. At this event, she wore a white dress, diamond earrings, and Princess Diana's diamond bracelet.
More recently, Meghan wore the ring to the Ripple of Hope Gala in December 2022. Again, she wore a beautiful white dress.
Princess Diana's Aquamarine Collection
The aquamarine ring wasn't Diana's only aquamarine piece. She also had aquamarine drop earrings and a bracelet set with aquamarine stones. She wore both pieces in 1987 at the Cannes Film Festival.
Mimicking the emerald-cut silhouette of the cocktail ring, Diana's five-strand pearl bracelet had a large rectangular aquamarine clasp. These are two of her most well-known blue pieces. Seemingly, Diana enjoyed matching aquamarine pieces with diamond and pearl jewelry.
Trending Now: Replica Princess Diana Aquamarine Ring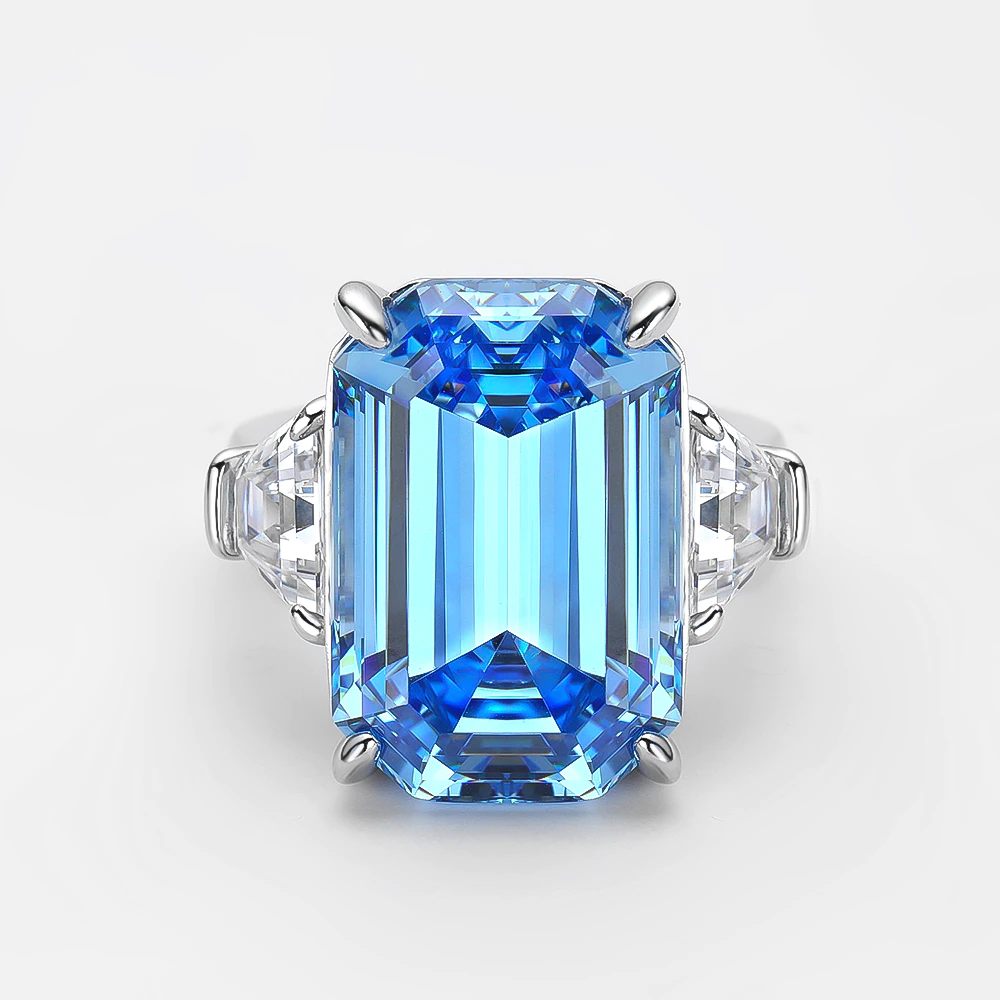 Rosery Poetry Princess Diana Aquamarine Ring Replica in Sterling Silver $89, SHOP NOW.
Princess Diana's jewelry was iconic. The Princess broke expectations with bold statement pieces and unique pairings.
Many of her accessories have inspired major jewelry trends. For example, her sapphire engagement ring was extremely non-traditional, paving the way for many other non-diamond engagement ring trends. Sapphire, aquamarine, emerald and other stones Diana frequently wore are now popular options for engagement rings.
In terms of aquamarine, they have continued to be a popular stone, especially for large cocktail rings.
Aquamarine has beautiful clarity and a unique hue that looks beautiful when cut into large designs. Today, you can search for the Princess Diana aquamarine ring and find an array of look-a-likes to copy the royal's style.
In the End
As a popular, well-loved figure, many looked to Diana for inspiration. Fashion was no exception. Out of her collection of more than 300 pieces of jewelry, her blue pieces, including the aquamarine cocktail ring, are perhaps the most memorable.
Read More
What makes the Princess Diana engagement ring so popular?
Meghan Markle Engagement Ring Close Up
What's special about toi et moi rings? Megan Fox, Ariana Grande, Kylie Jenner...