Jewelry
What makes the Princess Diana ring so popular?
Nov 10, 2022
The world has had quite a fascination with the British royals for quite some time. And one of the most intriguing aspects of royal life is the jewelry worn by the royal family.
Though there are countless beautiful pieces in the collection, one of the most famous is the Princess Diana ring, i.e., Princess Diana's sapphire engagement ring.
The History of Princess Diana's Ring
 

 

View this post on Instagram

 
When Prince Charles proposed to Diana in 1981, he did so without a ring. It might seem like a strange thing to do, but he chose to do this to let Diana select her own ring.
Traditionally, the royal family will commission custom-made rings for weddings and other occasions.
But the Princess Diana ring was made by Garrard's, the official royal jeweler at the time. Though it was too expensive for many people to buy, the same ring could technically be purchased by anyone.
But that wasn't the only unique thing about Diana's choice of ring. The center stone was a striking sapphire instead of a diamond.
Nobody seems exactly sure why that ring was the one Diana chose.
Some have theorized that it reminded her of her own mother's engagement ring. Others have said she liked the size of the stone, and still, others have claimed she was taken by the sapphire's rich blue color.
What Does The Princess Diana Ring Look Like? 
 

 

View this post on Instagram

 
The main focus was of course on the central sapphire, an impressive 12-carat, oval-cut gem. The sapphire itself was deep royal blue in color, and it originated in Sri Lanka.
But the sapphire wasn't the only gem on this beautiful ring. The central stone was ringed with 14 white solitaire diamonds set in 18K white gold.
The band of the ring was simple and slim, drawing the eye to the magnificent halo of stones.
Though Princess Diana's ring was technically available to "commoners," it was still an especially beautiful engagement ring.
How Many Carats Was Princess Diana's Engagement Ring?
The central stone is an impressive 12-carat, oval-cut sapphire gem, ringed with 14 white solitaire diamonds set in 18K white gold.
Princess diana ring worth: A
bout $400,000
How Much is Princess Diana's Engagement Ring Worth? Even though it was a Garrard's catalog item, Diana's ring was still quite expensive. In the 1980s, when it was purchased, it cost about $60,000. In today's dollars, that translates to about $400,000.
Of course, given its history, the sentimental value of the ring just might be more than the monetary value.
Thanks to the Princess Diana ring's relevance in popular culture, many people have opted to purchase replicas.
Replicas made with the same quality of sapphires and diamonds are closer to the price of the original ring. However, some jewelers make more affordable versions with Swarovski crystals, moissanite, cubic zirconia, and other substitute stones.
The symbolism of the Princess Diana Ring
 

 

View this post on Instagram

 
Diana's choice of a non-custom ring was symbolic in itself. Diana was known as the "People's Princess," so it makes sense that she would choose a ring available to the people.
Choosing a catalog ring also symbolized Diana's insistence on maintaining her individuality. Even though her engagement brought her into the royal family, Diana didn't want to follow royal customs to the point that she lost her unique nature.
In addition, Diana's choice of a sapphire ring also pays homage to the royal family's use of sapphire for at least some of their engagement rings.
Though many of us see sapphire as a non-traditional choice of engagement ring, many high-profile rulers have opted to use these rings in the past.
One inspiration for Diana's ring came from a brooch. Prince Albert gave Queen Victoria a brooch of diamonds and sapphires, and she wore it on her wedding day in 1940.
More recently, the Queen Mother (Prince Charles's grandmother) wore an oval sapphire to mark her engagement in 1923. And for both of her marriages, Princess Anne chose sapphire rings: one in 1973 and another in 1986.
Controversy
In light of who Diana was as a person, her choice of ring made sense. But that didn't mean that the royal family approved of her choice. In fact, Diana's choice of ring did cause a bit of a stir in royal circles.
A lot of that had to do with the fact that since Diana chose her own ring, she could have asked the royal jewelers to come up with a one-of-a-kind design. But she opted to go against tradition and choose a catalog ring. This was at a time when most royals chose custom-made jewelry.
But despite the controversy, it was abundantly clear that Diana loved her ring. She even wore it after she had officially separated from Prince Charles. And now, Diana's ring is part of a new tradition of its own.
Who Wears the Princess Diana Ring Now?
 

 

View this post on Instagram

 
That new tradition involves using Princess Diana's ring as a royal engagement ring today.
After Princess Diana's death, Prince Harry inherited the ring. But when Prince William was preparing to propose to Kate, Harry gave him the ring so their mother could be part of the engagement, too.
Prince William proposed to Kate Middleton with the iconic ring in 2010. William himself has said it was a way to make sure his mother could be with him on his wedding day.
The ring did not quite fit Kate's finger, but she found a way to resize it that didn't disrupt the structure.
A jeweler added a line of small platinum beads along the inside of the ring. That way, it was able to fit snugly enough. Now, just as Diana did, Kate wears the engagement ring even though she's already married.
A New Trend: Princess Diana Replica Rings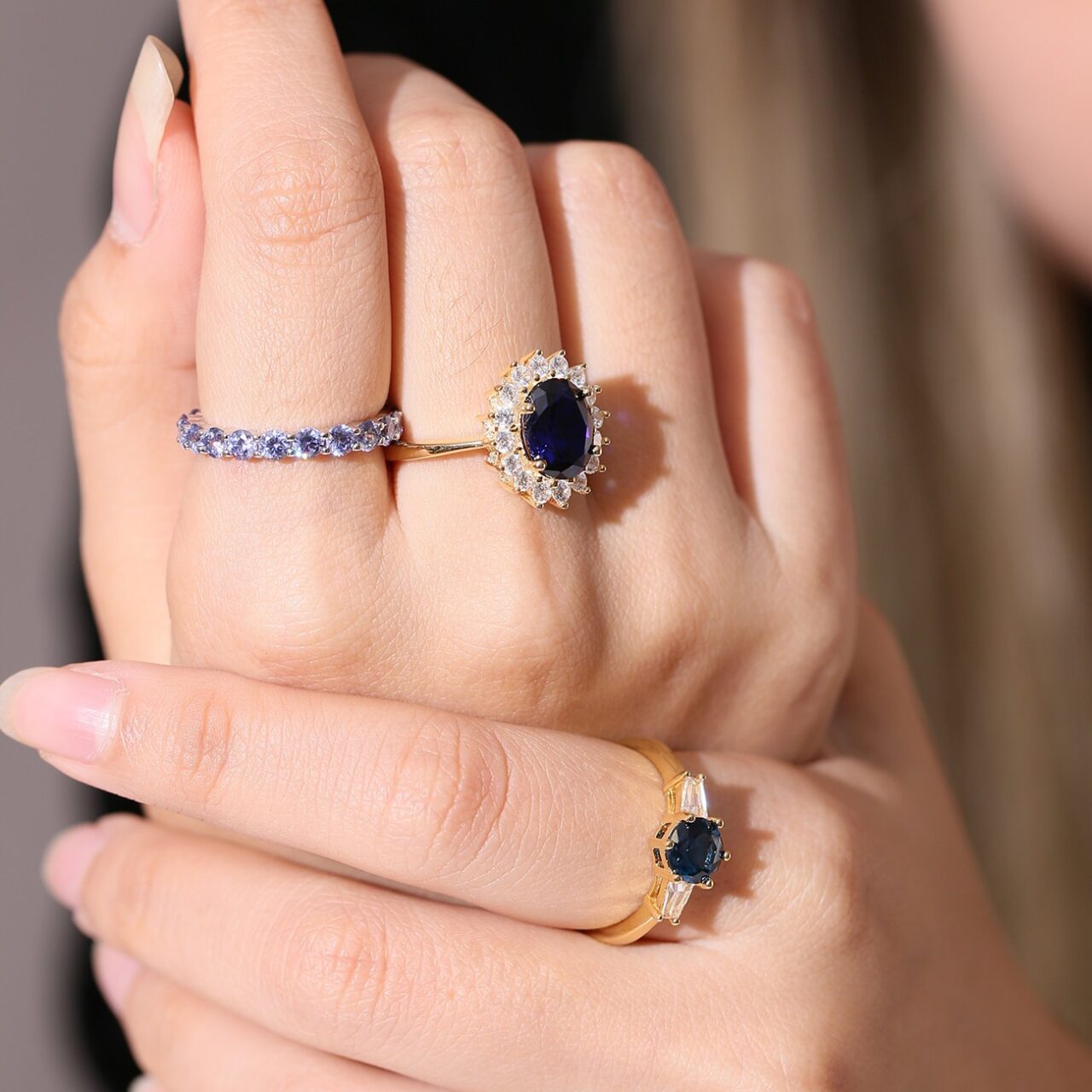 Rosery Poetry Princess Diana Sapphire Ring $49, SHOP NOW.
Obviously, nobody in the royal family would be willing to sell Diana's priceless ring. But for royal admirers and those who just appreciate fine jewelry, there's another option available: replicas of the Princess Diana ring.
While you can purchase very high-end replicas that are also made with genuine diamonds and sapphires, you can also find highly affordable replicas.
Some of these replicas feature lab-created sapphires that are difficult to distinguish from genuine sapphires.
And if you'd prefer a ring material that's more affordable than white gold, you can find these replicas in platinum, sterling silver, stainless steel, and more.
There are also plenty of dazzlingly beautiful diamond alternatives. Moissanite, cubic zirconia, white crystals, and other materials can offer just as much sparkle when cut well!
The bottom line is that whatever your budget, you can find your very own replica of Princess Diana's iconic ring.
Royal historians and casual followers of royal life alike have at least a passing knowledge of the Princess Diana ring. Whether you go for a replica or just keep an eye out for sapphire jewelry, we hope Diana's ring will inspire you.
Read More
What's special about toi et moi rings? Megan Fox, Ariana Grande, Kylie Jenner...
Why choose an opal engagement ring? And our hand-picked collection