Jewelry
When can I change my septum piercing?
Oct 21, 2022
Septum piercing is a kind of nose piercing that is done through the nasal septum. They are trendy for both men and women.
There are many different reasons to get one septum piercing: It signifies a new stage in life, it is a mark of rebellion, or it simply looks good on you.
When can I change my septum piercing?
Before you change your jewelry, it's best to wait for 2-3 months to make sure the initial septum piercing is healed (and that there are no signs of infection). It takes some people longer to heal than others.
If there's any doubt, check with your piercer or a doctor before deciding to switch to a new piece of jewelry.
Septum piercing healing time
Healing time will depend on each individual, though -- for some people, healing will be complete after 2-3 months. For others, it can take up to 8 months. Before it heals, you need to take good care of your piercing to prevent any discomfort.
How do you know if the septum piercing is healed?
The septum piercing is considered fully healed when it has been at least 2-3 months since it was done. What are the signs showing that your septum piercing is healed?
You have no pain when you breathe in or out.
There is no soreness, redness, swelling, discharge, peeling, or any other signs of infection.
You no longer feel discomfort when wearing septum jewelry.
You can move the piercing around freely.
You can clean and care for your piercing daily without issue.
You have already had your septum piercing for at least 2-3 months.
It would help if you remember that septum piercings are not pierce-once-and-forget because they will need your attention from time to time to look great.
What happens if you change the septum piercing too soon?
If you change the septum piercing too soon, your piercing might close, it might not heal properly, and you can get an infection. 
It can result in scarring and tissue damage if you try to forcefully change your septum piercing during healing, often due to impatience. It is also likely that fever-like symptoms will appear.
Standard septum piercing sizes
The standard septum piercing size is 16 gauge (1.2 mm) for thickness and 8 mm (5/16") for diameter. Thicker nose jewelry is less likely to be rejected by the body and makes the healing process faster. The larger hole allows for some swelling and prevents the healing from getting too tight as it heals.
Best materials for septum piercing jewelry
One of the most important factors in the healing process of nose piercings is the material you choose. If you're considering a nose piercing, here are some of the best metals for septum piercings.
1. Implant-Grade Titanium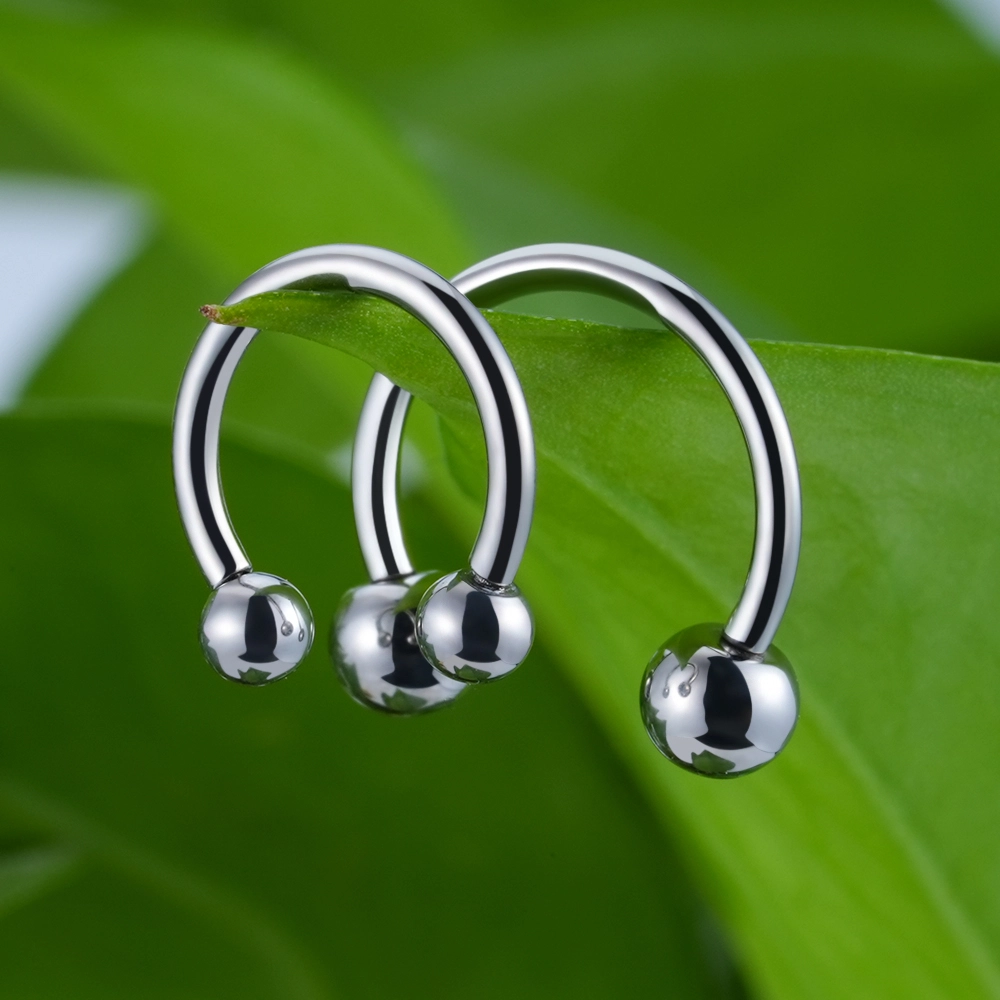 Rosery Poetry Implant-grade titanium nose ring curved barbell horseshoe 5 pcs $29.9, SHOP NOW.
Titanium is an element that is completely hypoallergenic, so it's probably the best material for nose rings, especially if you have sensitive skin.
Implant-grade titanium is the purest form and will not change or corrode if it's exposed to skin or bodily fluids. It is durable, hypoallergic, lead-free, nickel free, and non-corrosive.
Implant-grade titanium is often marketed as ASTM F-136 titanium. Compared to ASTM F-136 titanium, G23 titanium is not an implant grade of titanium.
Price Range: About $10-$20.
Pros:
Approved by the Association of Professional Piercers
Won't cause allergic reactions
Is scratch-resistant and won't fade
Cons:
Not as valuable as gold, silver, or platinum
Doesn't sparkle quite as much as other metals
2. 14K or 18K Gold
Rosery Poetry 14K gold septum piercing ring simple and minimalist $34.9, SHOP NOW.
If you're looking for a glittering, valuable metal for your nose jewelry, either 14K or 18K gold may be your answer.
It is also one of the best metals for nose rings that are highly recommended not only by piercing experts but also doctors. Its excellent quality of being inert makes it suitable for first piercings.
However, gold is a fairly soft metal, so it doesn't stand up to scratches and excessive wear. Compared to 14K gold, 18K gold is more prone to being affected by everyday use as it is softer and is closer to being pure 24K gold.
Both of these metals include other metal types in order to make them stronger. In order to avoid skin reactions, look for nickel-free metals.
Price Range: About $30-$200.
Pros:
One of the most valuable materials
Will not easily tarnish
Offers plenty of sparkles
Is easy to engrave or use to set stones
Cons:
May contain non-hypoallergenic metals
18K gold in particular is not very scratch resistant
3. Surgical Stainless Steel
Lots of new piercings are done in stainless steel. This material is affordable and typically doesn't cause reactions. However, it contains a small amount of nickel, so if you have a nickel allergy, it might be best to choose something else.
It is incredibly resistant to corrosion and will keep its shine for years.
If you're considering steel, 316L or 316 LVM steel is probably your best choice. Both names stand for the same surgical steel material, but the "VM" stands for"vacuum melt," or the way the steel is produced.
Price Range: About $10-$40.
Pros:
Very affordable
Common enough that you'll have plenty of jewelry choices
Extremely durable and resistant to damage and corrosion
Cons:
May cause reactions in those with nickel allergies
Not considered as valuable as some other materials
How do you change a septum piercing?
The exact way to change a piercing depends on the type. For a ring, pull gently on either side of the closure until you feel the ring open. Then, pull the ring downward and to the side (following the arc of the circle) until you feel it slip out of the piercing.
Do the same with a curved barbell, but first, be sure to unscrew one of the ends.
How to hide septum piercing?
If you have a curved barbell instead of a ring, you can flip it upward so it's hidden inside your nose.
Alternatively, you can choose a septum retainer. This is an unobtrusive (and often clear) piece that you can place through the piercing. You can then flip it inside your nose so the edges don't show. That way, when you don't want to wear a septum ring, you won't run the risk of your piercing closing up.
That being said, when you first get your septum pierced, it's important to not flip or otherwise move it for 2-3 months. Once this initial healing period is over, you can then hide the piercing when needed.
How to flip septum piercing up?
If you want to be able to flip up a septum piercing, choose a curved barbell (and not a closed ring). If your piercing is already healed, you can simply nudge the piercing until both ends of the barbell are securely inside your nose.
How to take care of septum piercing?
Take care to avoid contaminating the piercing.
Avoid touching it or applying makeup very close to it.
Avoid getting in water that might be dirty.
Clean your piercing twice per day using saline solution.
And of course, make sure to avoid snagging on clothes or towels.
Don't move the piercing before it heals. Pulling on a piercing early in healing is painful, but it also can get in the way of healing or damage the piercing itself.
How to clean septum piercing?
In general, cleaning it at least 2 times a day with a saline solution will work. And of course, ensure your hands are clean before touching your piercing.
Your piercer should give you detailed instructions on keeping your piercing clean once the piercing has been placed.
Make sure you start carefully cleaning your piercing as soon as you get it. With attention and regular care, your piercing should heal quickly, and you can enjoy the new addition to your look!
In the end
When can I change my septum piercing? It's best to wait for 2-3 months to make sure the initial septum piercing is healed (and that there are no signs of infection). In the meanwhile, make sure to choose high-quality nose jewelry to speed up the healing process.
Read More
Septum piercing price, pain, healing, aftercare...
Best metals for nose rings: Pros, cons, and prices
9 most common types of nose rings, studs, and chains with pictures