Jewelry
What is a bridge piercing? Costs, healing, pain, aftercare, jewelry...
Jul 13, 2022
Many might consider nose piercing a new trend. But they date back to ancient history.
They were commonplace in the Middle East and India as far back as 4,000 years ago. In Australia, aboriginal people wore septum piercings made of bone as far back as 44,000 B.C.
What is a bridge piercing?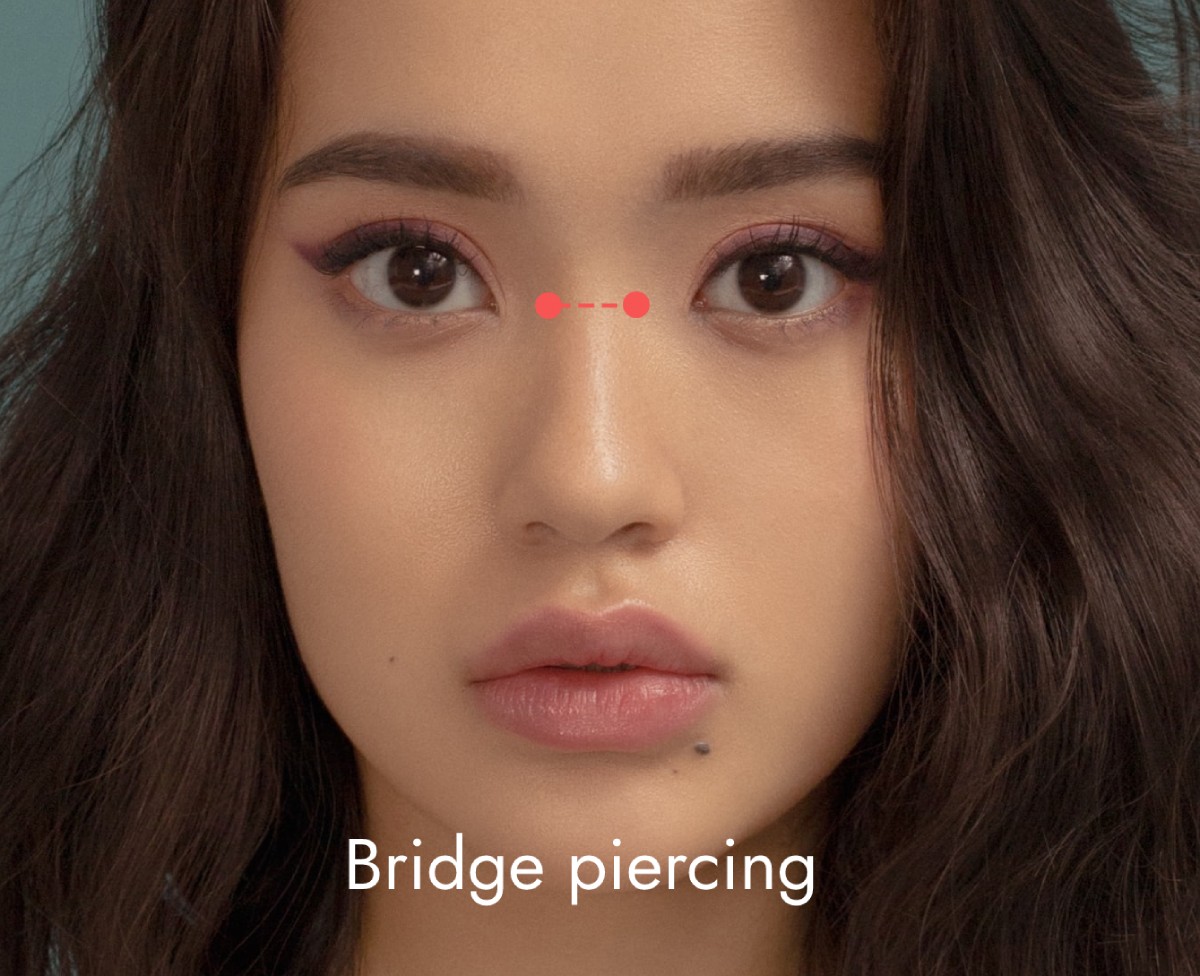 The bridge piercing is placed at the bridge of the nose. It is a surface piercing, meaning it only pierces skin -- it does not go through cartilage or bone. It is also referred to as an "erl."
Variant: Vertical bridge piercing or third eye piercing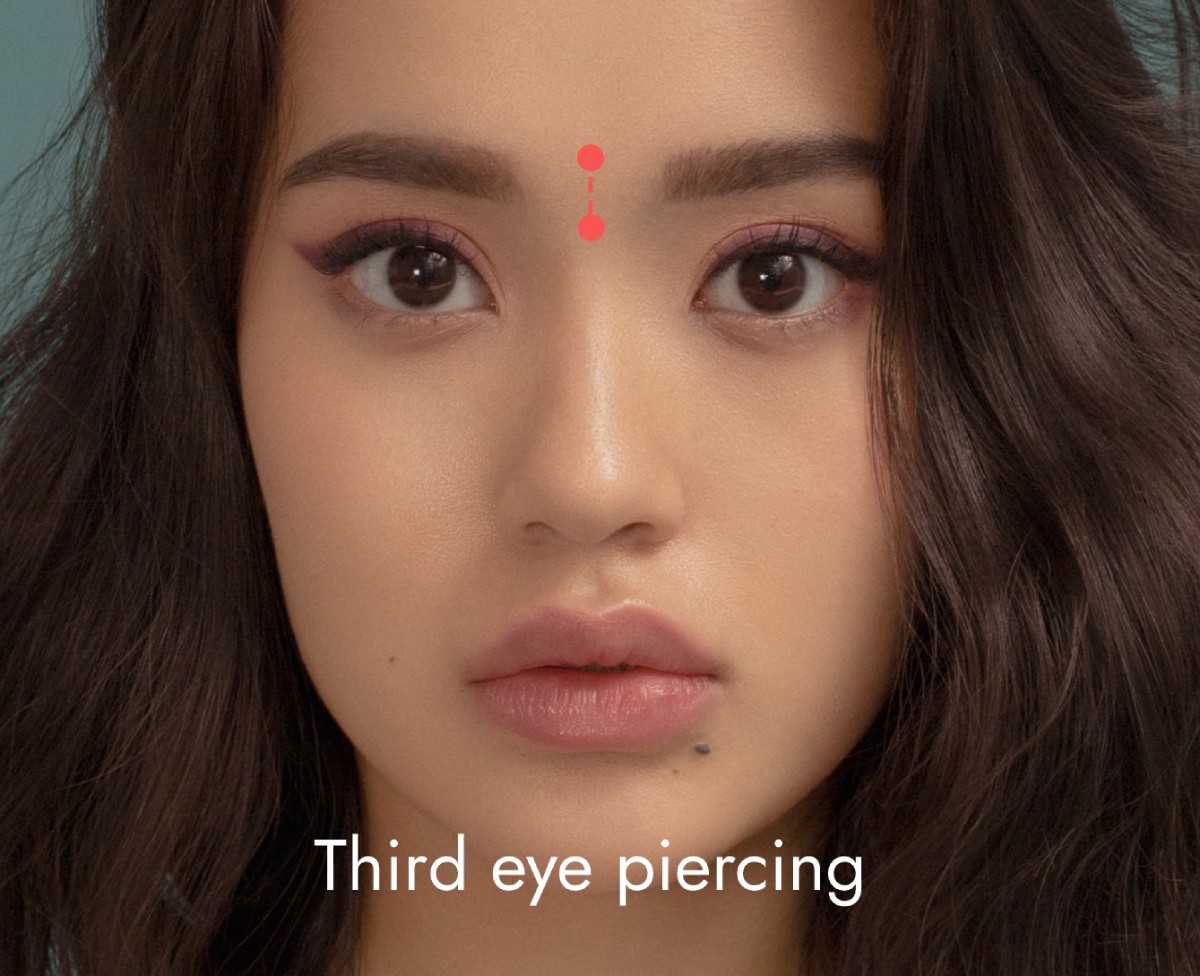 The vertical bridge piercing is also called third eye piercing or a "forehead piercing." But since the piercing is technically placed at the bridge of the nose, we'll include it here.
Fast facts:
Placement: At the bridge of the nose.
Cost: $25-$60.
Pain: One of the less painful nose piercings. Suitable a first piercing.
Healing time: 2-3 months.
Jewelry: Curved barbells, straight barbells, and chains.
Risks: Rejections, scars, infections
Bridge piercing pain
How bad does a bridge piercing hurt? Since it only goes through the skin, this piercing is one of the less painful nose piercings on the list.
But be careful -- this is a piercing that can sometimes be rejected, meaning your body will simply push it out of your skin.
Bridge piercing healing
How long does a bridge piercing take to heal? A bridge piercing is similar to a nostril piercing in terms of healing time; it usually will only take around 2-3 months. Since it heals quickly and isn't that painful, it's a suitable choice for a first piercing.
Bridge piercing with glasses
If you wear glasses or frequently wear sunglasses, make sure you discuss that with your piercer. They can help make sure that your piercing placement won't interfere with your frames.
How much is a bridge piercing?
Prices will vary widely based on location and the materials you will be using. But a nose bridge piercing will probably cost $25-$60.
What gauge is a bridge piercing?
The most common gauges for bridge nose piercings are 12G (2 mm) and 14G (1.6 mm). Piercers often use a slightly larger needle (16G/1.2 mm and 18G/1 mm are smaller) to make healing easier and minimize the risk of rejection, as this is a rejection-prone area.
The larger hole allows for some swelling and prevents the healing from getting too tight as it heals. In addition, 16 and 18G don't offer enough stability for a bridge piercing.
That said, make sure to listen to your piercer! Experienced piercers will be able to recommend the right gauge to avoid rejection or unnecessary complications.
Length wise, the recommended barbell length for bridge piercing jewelry is anywhere from 1/2" (12 mm) to 5/8" (16 mm) depending on the width of your nose.
Bridge piercing jewelry
Among all nose jewelry types, curved barbells are a common choice for this piercing type. However, shorter, straight barbells are also relatively common. These piercings make it look as though you have a small bead on either side of the bridge of your nose.
1. Curved Barbells
Curved barbells are the most popular choice among all types of nose rings. They have a curve that takes the shape of an arch with two balls on either end. You can go with a traditional round bead or opt for other shapes and accents.
Pros:
Barbell jewelry can be a great statement piece and can stand out
The curved shape can make bridge piercings more comfortable
They are available in a very wide variety of designs
Cons:
They may not be the best option if you're looking for something subtle
They also may get caught easily on items like clothing.
They heal more slowly than studs
They tend to be prone to migration or rejection
2. Straight barbells
Straight barbell piercing implant grade titanium $14.9, SHOP NOW.
Straight barbells aren't really seen a lot in nostril piercings, but they are often used for more complex piercings. A barbell is just a long metal bar with two ball ends.
Pros:
They heal faster than curved barbells
The barbell ends hold the jewelry in place securely
The piercing itself is fairly easy to clean
Cons:
They are more prone to infection
Barbell piercings tend to be more painful than other piercing types
3. Nose bridge chain piercing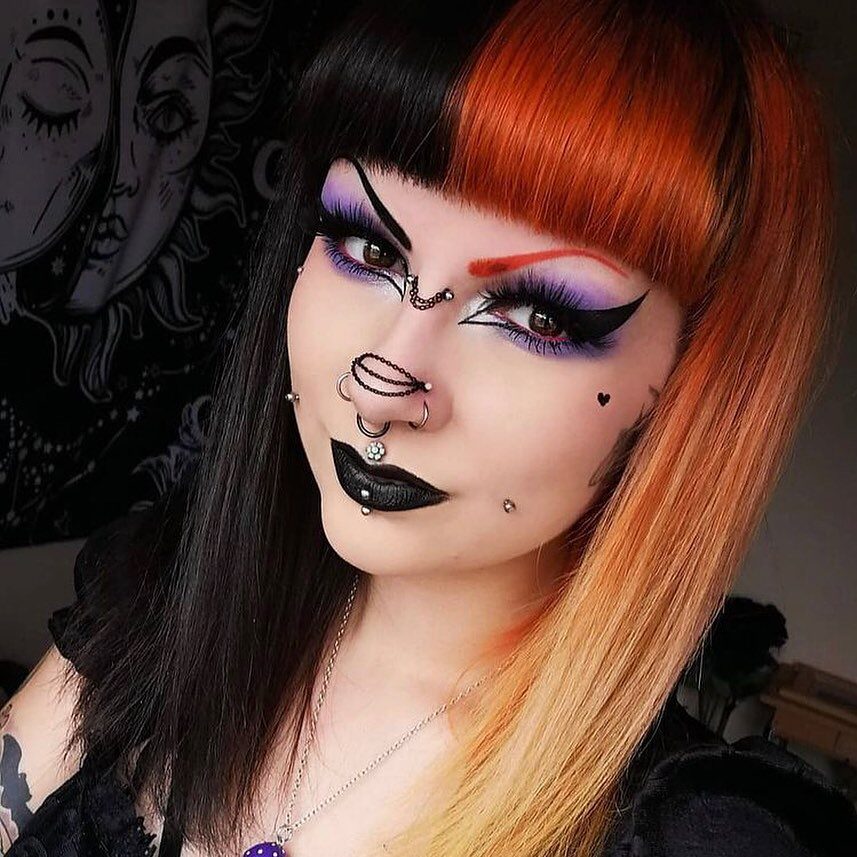 Ritual Jewellery & Co Double nose bridge chain $10, SHOP NOW.
Chains can be an eye-catching embellishment to nose piercings. Nose chains will connect each end of a bridge piercing across the bridge of the nose.
Pros:
They have a distinctive look that can really make you stand out
They're a great way to highlight piercings you already have
You can easily alternate chains for a different look every day
Cons:
They can easily snag on clothes, hair, etc.
Heavier chains can pull on piercings and cause discomfort
4. Fake bridge piercing
Memento Mori Aesthetic fake bridge studs 8 packs $18, SHOP NOW.
You can also go with a fake bridge piercing if you want to avoid the pain and risks of nose piercings.
Potential risks
1. Bridge piercing rejection
Signs that your skin is rejecting the piercing include:
The jewelry is visible beneath the skin
The eyebrow jewelry moves too freely than it should
The piercing hole appears to be larger than usual
If you want to have an easy healing time after a bridge nose piercing, avoid playing, rotating, touching, or changing the jewelry. Wait until the wound is completely healed.
Hence, it is always advisable to go to a professional for any body art. It takes about 2-3 months for the piercing to heal fully, after which you can change your jewelry or add more piercings if you wish.
2. Bridge piercing scar
Untreated infections can lead to scar tissue around the piercing. And sometimes, if left untreated, an infection will lead to a buildup of fibrous tissue that causes a scar called a keloid.
Keloids are uncommon, but they can be hard to treat. If you have a noticeable keloid, be sure to consult with a dermatologist for treatment advice.
3. Bridge piercing infection
If the infection is mild, you can usually get rid of it by washing the piercing two to three times a day.
Use isopropyl alcohol, betadine, diluted hydrogen peroxide, or another antiseptic.
Applying antibiotic ointment after washing it.
If the infection persists or gets worse, you may want to see a doctor.
How to clean a bridge piercing?
Generally, you should rinse the piercing with saline solution or use a special aftercare spray at least twice a day. Proper care is essential if you want your piercing to heal well. 
How to hide a bridge nose piercing?
You can choose a piercing retainer. This is an unobtrusive (and often clear) piece that you can place through the piercing. That way, when you don't want to wear bridge piercing jewelry, you won't run the risk of your piercing closing up.
That being said, when you first get your bridge pierced, it's important to not move it for 6-8 weeks. Once this initial healing period is over, you can then hide the piercing when needed.
Read More
9 most common types of nose rings, studs and chains with pictures