Jewelry
Ariana Grande Engagement Ring: Everything to Know
Jan 17, 2023
Ariana Grande is a well-known singer, actress, and model, recognized for her four-octave vocal capabilities and top hits in the pop industry.
In the past few years, she's faced some huge life changes including her engagement and marriage to Dalton Gomez. Keep reading to learn more about her proposal and the iconic Ariana Grande engagement ring.
Gomez's Proposal To Ariana
Ariana Grande reportedly started dating Dalton Gomez in early 2020. They went public with their relationship in May and announced their engagement in December of the same year.
The couple had mutual friends before they started dating and ran in similar circles. However, it wasn't until Ariana was on a hunt for a new home that their relationship kicked off. She was struggling to find the house of her dreams and Dalton stepped in to help guide her, which is when they started to fall for one another.
Gomez proposed to Ariana after almost a year of dating. Many of the details around their relationship are blurry, including how they knew each other when they exactly started dating, and how Gomez proposed.
Ariana broke the news of their engagement on December 20th with an Instagram post. She posted a series of photos of the couple together, as well as a close-up of the infamous ring.
Ariana Grande Engagement Ring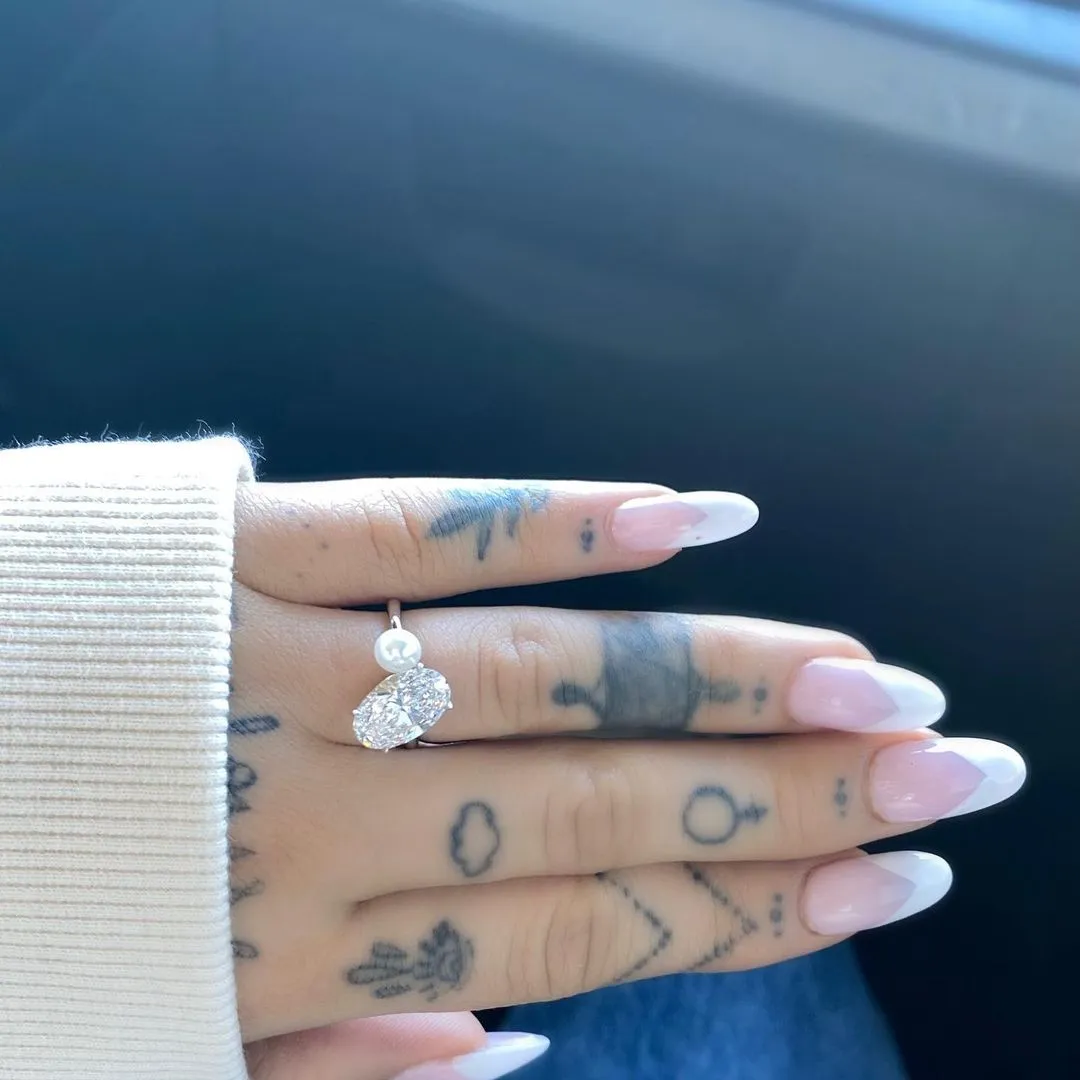 In the Instagram post, we can see that Ariana Grande's engagement ring features a yellow gold band, a pearl, and what's thought to be a 3-carat diamond. Aside from the stunning oval diamond, the pearl is particularly sentimental to Ariana.
When her grandfather passed away, her grandmother made Ariana a ring using the pearl from his tie pin. She told Ariana the ring would offer her protection.
Many people believe the pearl in Ariana's engagement ring is the same pearl. So either Dalton was able to integrate the family heirloom into the piece, or, he purchased a new pearl with an understanding of how important it was to her.
Plenty of celebrities boast engagement rings with large, extravagant center stones. Grande's ring broke outside of this norm with the oval diamond positioned at a slant with the pearl at its side.
Rosery Poetry Ariana Grande Engagement Ring Replica $48.9, SHOP NOW.
Ariana Grande Engagement Ring Is Designed by Dalton
Dalton was the mastermind behind the design of Ariana's ring. He was very meticulous to ensure every single detail and choice was perfect for her. Dalton worked with celebrity jewelry designer Jack Solow of Solow Co.
According to Solow, Dalton was involved in every step of the process. He wanted the diamond to be tilted, which allows the pearl to be nestled nicely against the gemstone. Solow noted how Dalton emphasized the sentimental importance of the pearl in the ring.
Ariana Grande Engagement Ring Price
Ariana Grande's engagement ring is thought to be worth around $350,000. Its actual worth may vary based on the specific details of the diamond, pearl, and band. However, many jewelry experts estimate its worth around that jaw-dropping, six-figure value.
Ariana Grande Engagement Ring Style: The Toi Et Moi Ring
The style of Ariana Grande's engagement ring is known as a toi et moi ring, or, a you and me ring. Toi et moi rings feature a coiled band that holds two gemstones closely together.
This style originated from Napoleon Bonaparte, who designed a toi et moi ring for Josephine de Beauharnais. Since its origination, it's considered a highly romantic design that's very popular today.
Toi Et Moi Ring Meaning
The toi et moi ring symbolizes the joining of two entities as the two stones sit side by side. Many couples choose to build a toi et moi ring using each partner's birthstone, which makes the ring even more special. 
If you're shopping for an engagement ring or just browsing, this fascinating design is worth knowing about. For Ariana, the pearl and diamond make the piece a toi et moi ring. The pearl is also her birthstone.
Trending Now
Other celebrities showcasing toi et moi rings include Kylie Jenner and Megan Fox. Machine Gun Kelly proposed to Megan with a ring featuring a white gold band and a teardrop-shaped emerald and diamond, which are their birthstones.
Travis Scott gifted Kylie a toi et moi ring featuring a large teardrop-shaped diamond pointing inward toward a large rectangular diamond. He also gifted their daughter Stormi a matching ring.
Should You Buy a Toi Et Moi Engagement Ring?
Engagement rings are extremely symbolic of commitment, love, and the future. There are many different styles of rings to choose from and different trends are always emerging. 
However, many women like to have an engagement ring that is one-of-a-kind and meaningful. Toi et moi rings can give you just that.
The Toi Et Moi Ring Is Unique
First of all, a toi et moi ring will allow you or your loved one to create a custom design filled with meaning. You can select each gemstone (or pearl) based on your birthstones or other sentimental accents.
You can showcase a unique design crafted with thoughtfulness, and nod to the latest celebrities embracing this trend, such as Ariana Grande.
The Toi Et Moi Ring Is Meaningful
Plus, the toi et moi ring Napoleon designed is considered to be one of the jewelry world's most romantic designs. The two stones of the toi et moi ring symbolize the close connection of souls -- there's a real sense of intimacy, but neither one loses its individuality.
If you're shopping for an engagement ring or just browsing, this fascinating design is worth knowing about.
Rosery Poetry Emerald toi et moi ring vintage style $65.9, SHOP NOW.
How to Buy Your Own Toi Et Moi Ring?
The first step to buying your own toi et moi style ring is figuring out what stones you will use.
Do you want to include a pearl, like the Ariana Grande engagement ring? Are you more focused on highlighting a high-quality diamond? Or are you solely focused on birthstones? There are also some classic stone combinations to consider, including:
Pearl + diamond or more affordable diamond alternatives like moissanite, white sapphire, cubic zirconia, and so on
Diamond + diamond
Sapphire + diamond
Emerald + diamond
Ruby + diamond
Morganite + pink tourmaline
Moissanite + moissanite
Salt and pepper diamond + diamond
Blue topaz + alexandrite
You can take your custom design even further by choosing a beautiful band to offset the stones, encrusting the band in diamonds, or exploring different ways of positioning the stones next to or on top of one another. Brainstorm all of your options and prioritize what will be most meaningful to you.
Rosery Poetry toi et moi ring with moissanite stones from $98 to $399, available in silver, 10K, and 14K gold, SHOP NOW.
Read More
What's special about toi et moi rings? Megan Fox, Ariana Grande, Kylie Jenner...
What makes the Princess Diana ring so popular?
Why choose an opal engagement ring? And our hand-picked collection