Jewelry
Kate Middleton Engagement Ring: Why The Buzz?
Dec 28, 2022
What's the buzz around the Kate Middleton engagement ring? Since 2010 when Prince William and Kate Middleton got engaged, the world has been interested in her engagement ring.
This stunning 12-carat sapphire engagement ring is surrounded by 14 diamonds and has become an iconic symbol in the memory of Princess Diana.
Why is this ring such a phenomenon? Today, people have adopted ways to incorporate Princess Diana's legacy into their lives. It has become a symbol of great virtues.
As with many things royal, the ring has also had controversy. It certainly holds an important place in the lives of Prince William and Kate Middleton.
Let's find out all about this beautiful royal piece that holds a place in history.
History of the Kate Middleton Engagement Ring
The inspiration for the royal piece of jewelry that represents the union of Prince William and Kate Middleton dates back a couple of centuries.
This iconic ring belonged to Prince William's late mother, Princess Diana. It was her engagement ring, which was not a traditional type of ring. After all, she was known for not following limiting traditions.
Vogue magazine reported that the ring debuted back in 1840. It appears that Prince Albert commanded Garrard a British jeweler to make this astonishing sapphire and diamond brooch for Queen Victoria. It was a special wedding gift for her. She would become his future wife and loved the piece.
Queen Victoria held such endearment to the brooch that she wore it on her wedding day. Something blue that represented Prince Albert's love. According to Sara Prentice, Vogue's creative director, Queen Victoria loved the jewel so much that she wore it until Prince Albert died in 1861.
A couple of centuries later, Prince Albert's wedding gift to Queen Victoria remained a crown heirloom. Queen Elizabeth wore the jewel in 2015 at the Royal Ascot and on many other occasions.
Then, came along Prince Charles looking for a ring for his future wife, Lady Diana. He set up a sapphire cluster ring inspired by the brooch his mother had worn.
Prince William received the ring designed by Prince Charle's jeweler and chose it for his engagement to Kate Middleton, the Duchess of Cambridge.
Kate Middleton Engagement Ring Info
How does the Kate Middleton engagement ring look? It features an oval 12-carat blue sapphire, which is surrounded by premium solitaire diamonds. The sapphire and 14 diamonds are mounted on 18K white gold.
Kate Middleton's engagement ring is far from basic. It was designed by Garrard, the very first crown jeweler.
Did Kate Middleton Change Her Engagement Ring?
Yes. The ring did not quite fit Kate's finger, so she found a way to resize it that didn't disrupt the structure. A jeweler added a line of small platinum beads along the inside of the ring. That way, it was able to fit snugly enough.
Now, just as Diana did, Kate wears the engagement ring even though she's already married.
Kate Middleton Engagement Ring Worth
Of course, such a family heirloom is priceless. However, the market value of the ring has a hefty price tag.
Back in the 1980s, the ring was reported to be worth approximately £28,000 to £47,000. That's about $37,000 to $62,000 in today's market.
Nowadays, this exclusive ring made with Ceylon sapphire is estimated to be worth close to $400,000.
According to Greg Kwiat, the owner, and CEO of Kwiat Diamonds, the ring's color raised its value. The sapphire has a unique royal blue tone known as Sri Lanka or Ceylon.
Why the Controversy?
The controversy that surrounds Kate Middleton's sapphire ring revolves around Princess Diana. Rumors point to the royal family's disappointment in Prince Charles' choice for the ring. Choosing a blue sapphire ring was not traditional.
The problem was mostly based on the royal family's perception of the ring's lack of exclusivity. According to Vogue, the same ring was featured in the designer's catalog, available to the public for £47,000.
It was not acceptable for a commoner to wear the same ring that a royal uses for their engagement. The royal family felt that the ring was not fitting for the future queen of England.
Another issue was that the ring came from an unhappy marriage between Prince Charles and Princess Diana.
Nonetheless, Prince William chose the ring to pay tribute to his late mother. For the couple, it represents her love held close to the special moments in their lives. They see the ring as an heirloom that symbolizes Princess Diana's life and legacy.
During a 2010 interview, Prince William said that he chose the ring because it was his mother's engagement ring. He feels that is perfect for linking the two very special women in his life. It is a way to have his mother present during such a special time with Kate.
The symbolism of Kate Middleton's Ring
As you know, Prince William's mother, Princess Diana tragically passed away. When Prince William decided to give his future wife his mother's ring, he intended to symbolically keep his mother close as he went off to get married.
In addition, Diana's choice of a non-custom ring was symbolic in itself. Diana was known as the "People's Princess," so it makes sense that she would choose a ring available to the people.
Choosing a catalog ring also symbolized Diana's insistence on maintaining her individuality. Even though her engagement brought her into the royal family, Diana didn't want to follow royal customs to the point that she lost her unique nature.
Trending: Kate Middleton Ring Replicas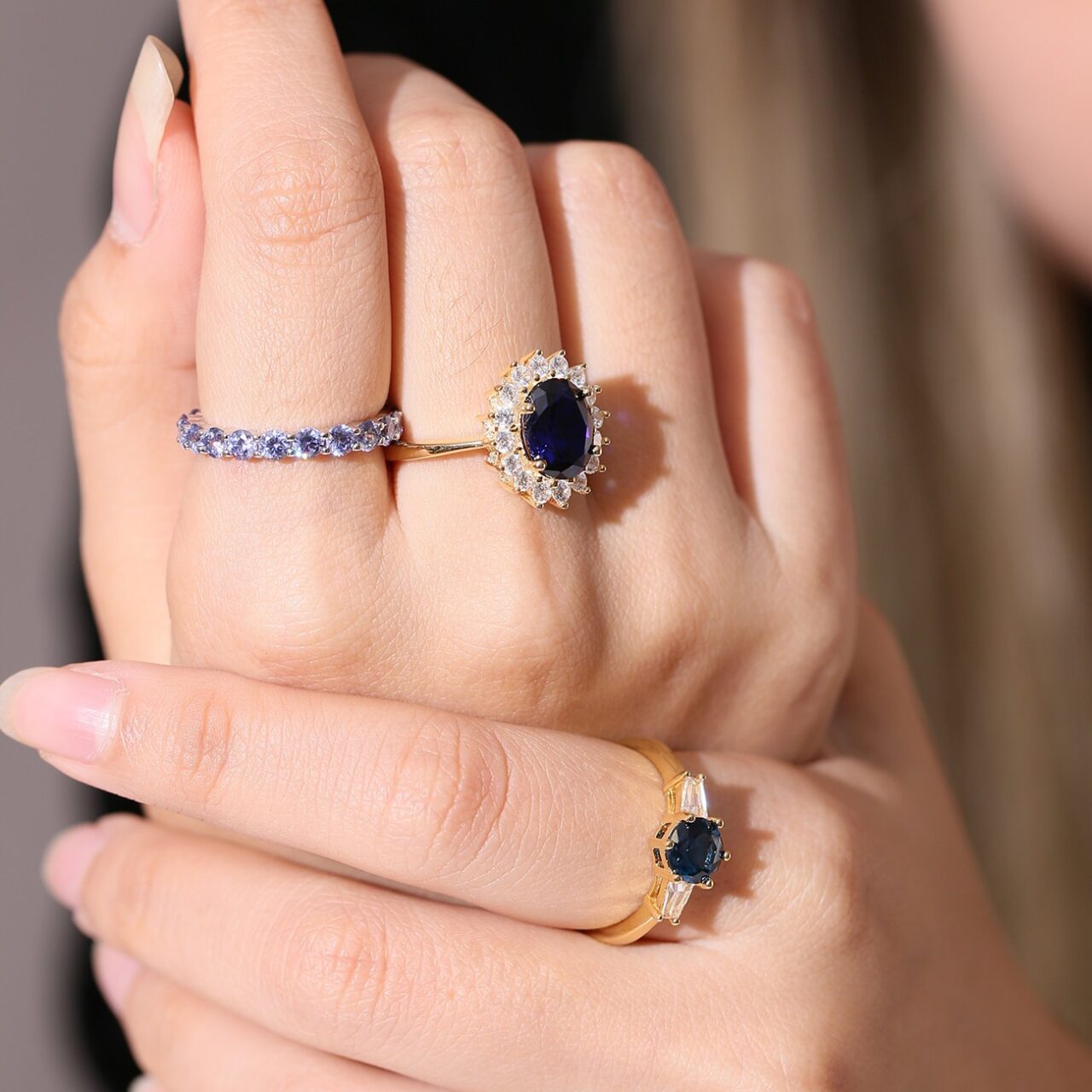 Rosery Poetry Kate Middleton engagement ring replica with sapphire $59, SHOP NOW.
Nowadays, the Kate Middleton engagement ring has inspired a modern trend worldwide. It has become a vintage design that is very popular in the modern bridal circuit. There are Kate Middleton ring replicas that have been designed in various types of stones.
Replica rings are becoming increasingly popular due to their customizability, elevated quality, and affordability. With high-end craftsmanship and comfortable prices, purchasing Kate Middleton replica rings has become a smart alternative to the expensive brink-and-mortar jewelry stores.
Rosery Poetry Pink morganite engagement ring $59, SHOP NOW.
Read More
What's special about toi et moi rings? Megan Fox, Ariana Grande, Kylie Jenner...
Why choose an opal engagement ring? And our hand-picked collection