Jewelry
Megan Fox engagement ring: Thorns, price, meaning, design, and so on
Nov 29, 2022
There seems to be a collective cultural fascination with celebrity engagement rings. One ring that has recently caused a stir is the Megan Fox engagement ring, given to her by her fiance Machine Gun Kelly. The ring's unique design has introduced countless fans to an old classic: the toi et moi ring.
The Proposal
Some proposals are extravagant affairs, but Machine Gun Kelly's proposal to Megan Fox on January 11, 2022 was a simple and sentimental one. The two got engaged beneath a banyan tree in Puerto Rico — the same tree where the two first made their relationship official.
Megan Fox and MGK announced their engagement to their fans via social media and even streamed the proposal on TikTok. In response to MGK's Twitter announcement, Megan Fox replied "and then we drank each other's blood." However, it's unclear whether that actually happened or not!
Megan Fox Engagement Ring
After fans got over the initial excitement of the engagement, they began to focus on Megan's beautifully unique engagement ring.
Machine Gun Kelly wanted to propose to Megan Fox with a ring that was truly one-of-a-kind. He collaborated with British jeweler Stephen Webster. The design process was a long one, and MGK told Webster the pair's love story.
With that context and MGK's ideas, Webster was able to create an innovative and highly personalized version of this traditional and sentimental ring.
Megan Fox Engagement Ring Design
Megan Fox's engagement ring has introduced us to an old classic: the toi et moi ring (you and me ring). The most noticeable features are the stones: a pear-shaped emerald (Megan Fox's birthstone) and a pear-shaped diamond (MGK's birthstone).
The emerald is a high-end, untreated Colombian stone that's about three carats. The glittering D-colored diamond is also about three carats.
Each stone has its own 18K white gold band. The two bands connect together via magnets embedded in the gold, making the two pear-shaped stones form what MGK calls "an obscure heart."
The two large stones aren't the only precious gems on the ring, though: each white gold band is covered with an understated yet elegant diamond pave.
DENYJEWELS Megan Fox engagement ring replica $168, SHOP NOW.
Megan Fox Engagement Ring Thorns
Machine Gun Kelly has said in an interview that he designed the ring so it causes pain when it's removed. Each of the two bands of the ring has sharp thorns that dig into the skin if removed. "So if she tries to take it off, it hurts," he said. "Love is pain!"
This design has made fans question whether this celebrity relationship is a toxic one, Although Megan Fox's engagement ring is certainly beautiful. It is now part of designer Stephen Webster's Thorn Embrace collection.
Megan Fox Engagement Ring Cost
How much was Megan Fox engagement ring? Unsurprisingly, Megan Fox's engagement ring is pricier than most. It's valued at $340,000!
But given the fact that it was custom-designed by renowned jeweler Stephen Webster and made with especially high-end stones, the high price makes sense.
Rosery Poetry Emerald toi et moi ring $65.9, SHOP NOW.
Megan Fox Engagement Ring Meaning
At first glance, Megan Fox's engagement ring looks unusual, largely because it prominently features two stones instead of one. That's because it's a toi et moi (French for "you and me") ring.
The two stones of the toi et moi ring, set on intertwining bands, are meant to symbolize the intertwining of two souls. This style is considered one of the jewelry world's most romantic designs.
Some toi et moi rings, including this one, actually have each stone set on its own band. The bands are then connected on the wearer's finger.
This style isn't too common in modern times, but it's been around for centuries. Most people believe that the original toi et moi ring was a striking diamond and sapphire ring given by Napoleon Bonaparte to his fiancee, Josephine, in 1796.
Many couples getting engaged with a toi et moi ring opt to include each of the couple's birthstones. You don't have to do this, though. For an engagement ring, you might choose to include a diamond and a contrasting stone.
You can find all kinds of stone combinations used, and many of these toi et moi rings are surprisingly affordable!
Should You Buy a Toi et Moi Engagement Ring?
If you've been keeping up with recent jewelry trends, you already know that the toi et moi style has become popular with celebrities.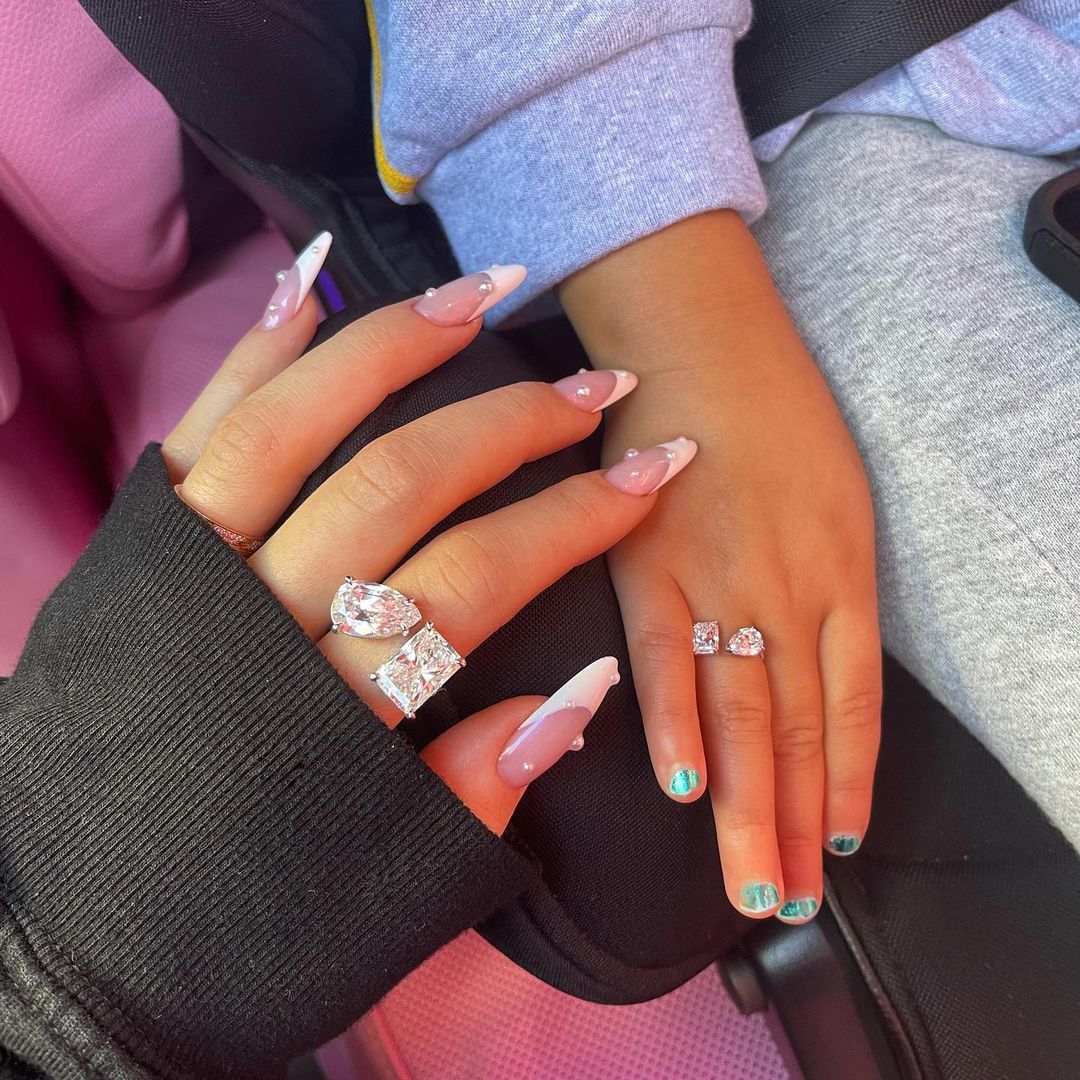 Travis Scott proposed to his girlfriend Kylie Jenner with a toi et moi ring featuring both a radiant diamond and a pear diamond. He even gifted a matching, smaller ring to his daughter Stormi.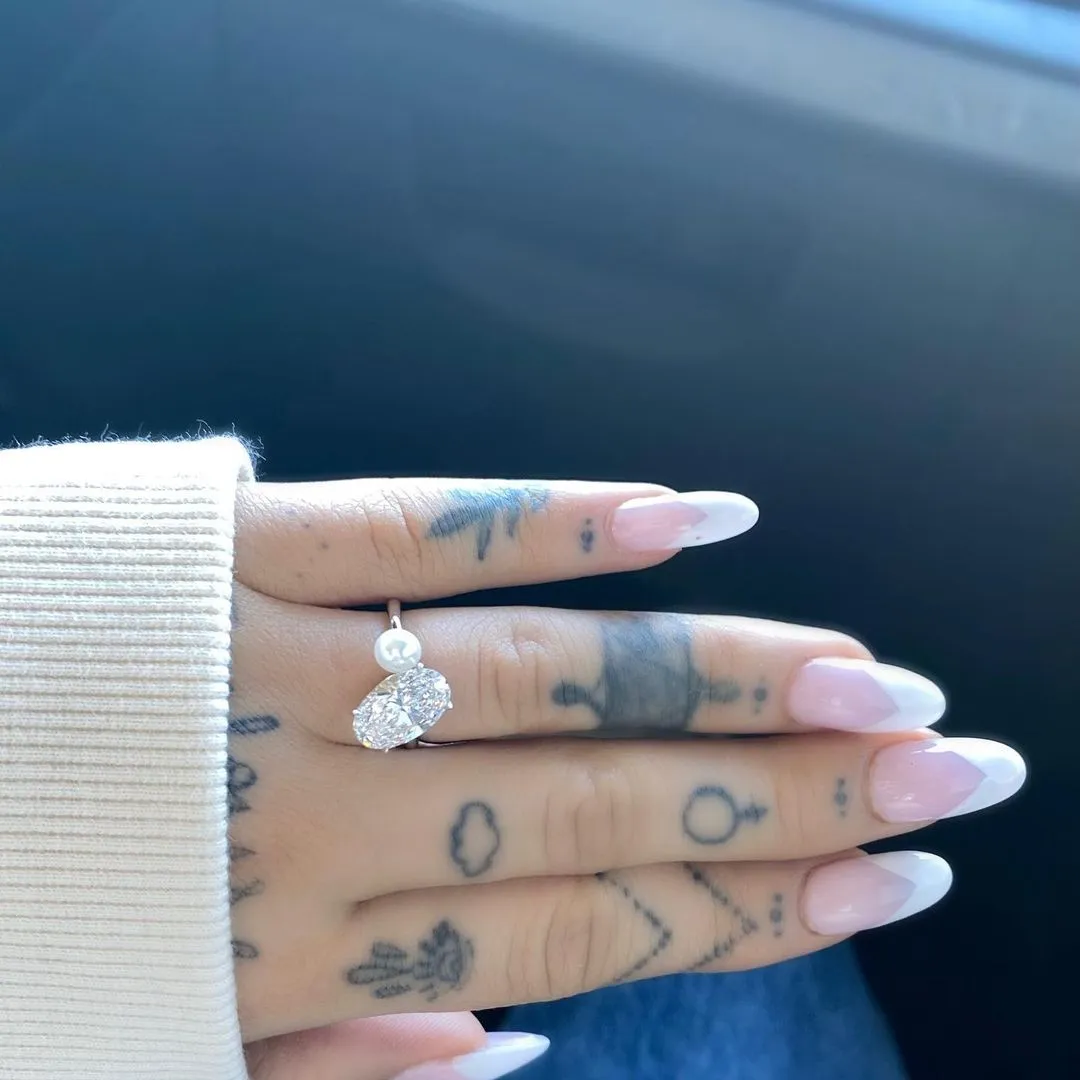 Pop star Ariana Grande also received a toi et moi engagement ring from her fiance Daton Gomez. This ring featured a pearl and a diamond set in platinum.
The Toi et Moi Ring Is Unique
First of all, a toi et moi ring will allow you or your loved one to create a custom design filled with meaning. You can select each gemstone (or pearl) based on your birthstones or other sentimental accents.
You can showcase a unique design crafted with thoughtfulness, and nod to the latest celebrities embracing this trend, such as Ariana Grande.
The Toi et Moi Ring Is Meaningful
Rosery Poetry Ariana Grande Engagement Ring Replica $48.9, SHOP NOW.
Plus, the toi et moi ring Napoleon designed is considered to be one of the jewelry world's most romantic designs. The two stones of the toi et moi ring symbolize the close connection of souls -- there's a real sense of intimacy, but neither one loses its individuality.
A toi et moi ring is a great choice, especially if you're in the market for an engagement ring or just want something special to give your significant other.
Or, if you just like the aesthetic, there's nothing wrong with buying one for yourself! You can find these rings made with precious or semiprecious stones, so there's something for just about every budget.
How to Buy a Toi et Moi Ring?
Not everyone is in the position to design their own toi et moi ring, but that's ok — with the design's recent resurgence in popularity, jewelers of all sizes almost always have a range of these rings available. Of course, before making your purchase, make sure you know the ring size of the person you're purchasing it for!
Take your time and look around at different designs. Some toi et moi rings have the two stones touching, while others have some space between the two.
Rosery Poetry toi et moi ring with moissanite stones from $98 to $399, available in silver, 10K, and 14K gold, SHOP NOW.
You can also search for a specific type of stone. Most high-end rings include precious stones, but if you're going for something more affordable, moissanite, white sapphire, quartz, and other more accessible diamond alternatives come in a striking array of colors.
The band material is also an important consideration. Gold and platinum are great choices.
But if you're selecting a less expensive ring, make sure the band is made of high-quality metal like 925 sterling silver. The last thing you want is an allergic reaction to nickel or another low-quality metal!
To Conclude
All in all, like the Megan Fox engagement ring, toi et moi rings are beautiful pieces of jewelry that carry plenty of meaning for the wearer. They're enjoying a moment in the celebrity spotlight now, they never seem to go out of style!
Rosery Poetry Toi et moi ring Kylie Jenner resizable $54.9, SHOP NOW.
Read More
What's special about toi et moi rings? Megan Fox, Ariana Grande, Kylie Jenner...
What makes the Princess Diana ring so popular?
Why choose an opal engagement ring? And our hand-picked collection