Jewelry
Handpicked Simple Engagement Rings: Minimalist Designs and Affordable Prices
Mar 29, 2023
 In a world that glorifies large diamonds and elaborate settings, choosing simple engagement rings can be a good choice. When you choose minimalist engagement rings, you can save money while getting something uniquely suited to you and your spouse-to-be. Here's a quick guide to choosing the best minimalist ring for you!
Why Choose Simple Engagement Rings?
If you're on the fence about what type of engagement ring to get, here are a few reasons to go with a simpler style:
1. Quality Over Complexity
Some people prioritize getting a diamond with a high-carat weight. But when you choose a smaller diamond (or a different stone altogether), you can focus on maximizing quality elsewhere.
You can choose a diamond or other stone with exceptional clarity and a top-grade cut, as the most important thing is cut. You also can choose top-quality metals for the band.
2. Save Money for More Important Things
When you get a simpler engagement ring, you don't have to budget exorbitant amounts or go into debt. Affordable engagement rings are an especially great choice if you'd rather put that money toward an elaborate wedding or the perfect honeymoon!
3. Minimalism Never Goes Out of Style
The popularity of minimalist jewelry is a successful practice of the "less is more" philosophy in jewelry. Simple and minimalist jewelry is suitable for all kinds of occasions and will definitely stand the test of time.
Tips for Choosing Simple Engagement Rings
Ready to start shopping for simple engagement rings? Here are some tips to pick the right one for you.
1. Go For Minimalist Designs
Minimalist jewelry never goes out of style. Popular simple designs include solitaire rings, toi et moi rings, simple stackable rings, rings with non-diamond side stones, and metalwork rings.
2. Popular Gemstones for Simple Engagement Rings
If you're getting a diamond, focus on cut, color, and clarity rather than carat weight, as the most important thing is cut. 
But for simple engagement rings, more popular choices are smaller diamonds, salt and pepper diamond, moissanite, agate, amethyst, sapphire, garnet, ruby, emerald, and turquoise.
Moissanite is especially a great choice as it has a higher brilliance than diamonds and has a "rainbow" sparkling effect in the light. It is a beautiful and affordable alternative to diamonds.
It is also a great idea to choose gemstones with personal significance to you and your soon-to-be spouse, like your birthstones. Compared to expensive gemstones, they are more meaningful and unique.
3. Choose a High-Quality Metal That Will Last
Solid gold like 14-karat gold, platinum, and sterling silver are excellent choices. Gold-plated metals, however, are deemed to lose color and therefore will not last. When shopping for simple engagement rings, pay more attention to the metal so your ring can stand the test of time.
4. Other Tips
Consider buying a vintage or secondhand ring
Set a budget before you start shopping
Consider working with a jeweler to design a custom ring
Have an idea of what type of setting you prefer
Simple Engagement Rings That Are Worth a Look
Thinking of going with simple engagement rings? Check out this list of 12 minimalist engagement rings.
1. Princess Diana Sapphire Replica Ring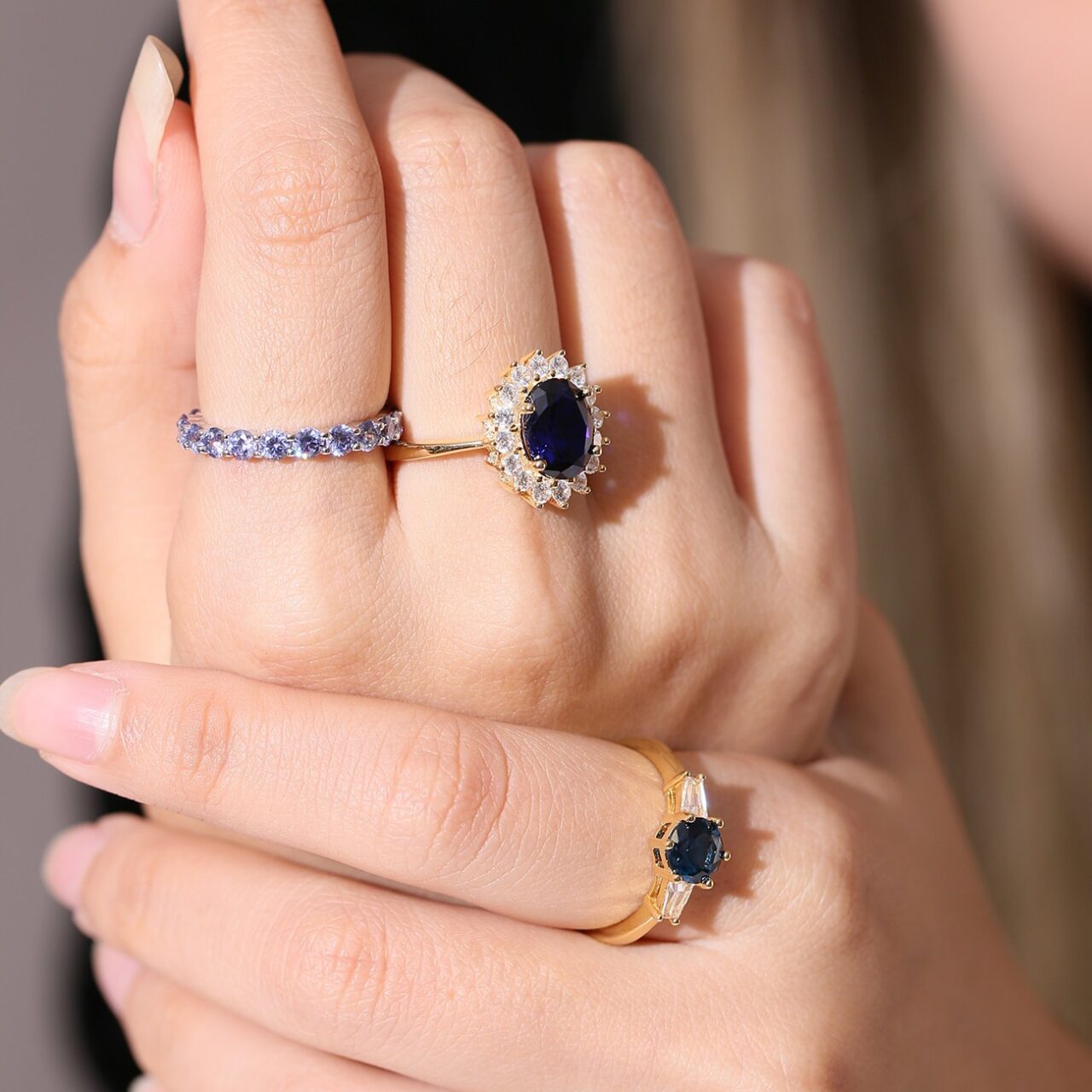 Rosery Poetry Princess Diana Sapphire Ring Replica $59, SHOP NOW.
Princess Diana's sapphire engagement ring caught the eye of the jewelry world: it was a massive 12-carat sapphire surrounded by 14 diamonds.
This ring gives you the same beauty in a more affordable package. At the center is a deep blue, lab-created oval sapphire. It's ringed with sparkling cubic zirconia stones.
You can choose your favorite metal finish, too. The ring itself is 925 sterling silver, but it can be plated with yellow, rose, or white gold. If you wish, you can also purchase it in 10-karat or 14-karat gold.
2. Toi et Moi Ring (You and Me Ring)
Rosery Poetry toi et moi ring with moissanite stones from $129 to $399, available in silver, 10K and 14K gold, SHOP NOW.
Toi et moi rings (you and me rings) are considered to be one of the jewelry world's most romantic designs. Two stones of this romantic ring style are meant to symbolize the closeness of two souls.
Celebrities like Megan Fox, Kylie Jenner, Ariana Grande, Emily Ratajkowski have all chosen this design to mark their engagement.
This toi et moi ring features a pear-cut and a princess-cut moissanite stone. Moissanite is a great choice if you are looking for cheap engagement rings. It has a higher brilliance than diamond and has a "rainbow" sparkling effect in the light, so it's a beautiful alternative to diamonds.
The band is 925 sterling silver that can be plated with white gold, rose gold, or yellow gold. It also comes in 10K, 14K, and 18K gold.
3. Meghan Markle Engagement Ring Replica 
Rosery Poetry moissanite engagement ring starting from $79, SHOP NOW.
If you were inspired by Meghan Markle's classic three-stone engagement ring, you can get cheap engagement rings of the same look at a fraction of the price. This ring uses three moissanite stones: an emerald-cut center stone flanked by two heart-shaped stones.
Even though moissanite is about a tenth of the price of diamonds, it has almost the same hardness as diamonds. That means that you can wear this ring daily without worrying about damage.
You can customize your band with a few different types of white gold, yellow gold, rose gold, and sterling silver.
4. Three-Carat Moissanite Ring
3 carat moissanite ring oval cut in 10K gold $485, SHOP NOW.
Looking for an engagement ring with a classic appeal? This ring is ideal. It features a large, three-carat moissanite stone in an attractive oval cut.
The simple band adds timeless appeal. You can choose rose gold, yellow gold, or white gold, and we can custom-engrave the band if you wish.
5. Minimalist Solitaire Ring
2 carat moissanite solitaire ring round cut $59, SHOP NOW.
The diamond solitaire is probably the most iconic choice when it comes to engagement rings.
This moissanite version gives you that same classic look at just a small fraction of the price. Its two-carat size is large enough to make a statement, but not so large that it becomes gaudy.
You select a band made of 925 sterling silver, 10K gold, 14K gold, or 18K gold. We can also customize your ring if you wish.
6. Oval Cut Moissanite Pave Ring
Oval moissanite ring 1 carat $69, SHOP NOW.
If you want to combine moissanite's sparkle with a little vintage style, this is a great ring to choose from.
The central stone has an eye-catching oval cut, and it's surrounded with even more brilliance: the oval is ringed with smaller stones, and those small stones extend around the band like an eternity ring.
7. Emerald Cut Engagement Ring
Emerald cut moissanite engagement ring 4-carat $189, SHOP NOW.
One of the benefits of moissanite is that you can get a larger stone for the same price as a much smaller diamond.
This large and striking moissanite stone has a bold emerald cut. Combined with the simple gold (or sterling silver) band, it has an elegant and refined look.
8. Marquise Cut Blue Stone Ring
Blue moissanite ring marquise cut 3 carat $139, SHOP NOW.
Looking for uniquely beautiful yet cheap engagement rings that you definitely don't see every day? This ring features a stunning blue moissanite stone. It's essentially moissanite's answer to the elusive blue diamond.
The stone itself isn't the only thing that makes this ring unique. The marquise cut is a somewhat uncommon choice, but it's a glamorous way to stand out. The cool-hued stone pairs beautifully with silver or white metals, so you can choose a band in 925 sterling silver, 10K white gold, or 14K white gold.
9. Black Gemstone Ring
Black rutilated quartz ring oval cut $49, SHOP NOW.
If you love black gems, black rutilated quartz is a must-see. Rutilated quartz has needle-shaped black inclusions that give it a unique, almost fractured appearance. This ring features an oval-cut center gem with white cubic zirconia on either side.
The deep black of this stone looks especially beautiful against the soft glow of rose gold. You can choose a band of solid rose gold or sterling silver plated with rose gold.
10. Curved Engagement Ring
Rosery Poetry Curved moissanite wedding band $85, SHOP NOW.
Curved and V-shaped rings have a beautifully dynamic look, and they're great for stacking with other rings. This one's sharp point is beautifully balanced out by the soft curve of the oval moissanite stone.
Like the diamond, moissanite goes well with just about any shade of metal. You can choose this ring in rose, yellow, or white gold. Or for an extra budget-friendly choice, go with a gold-plated sterling silver ring.
11. Eternity Band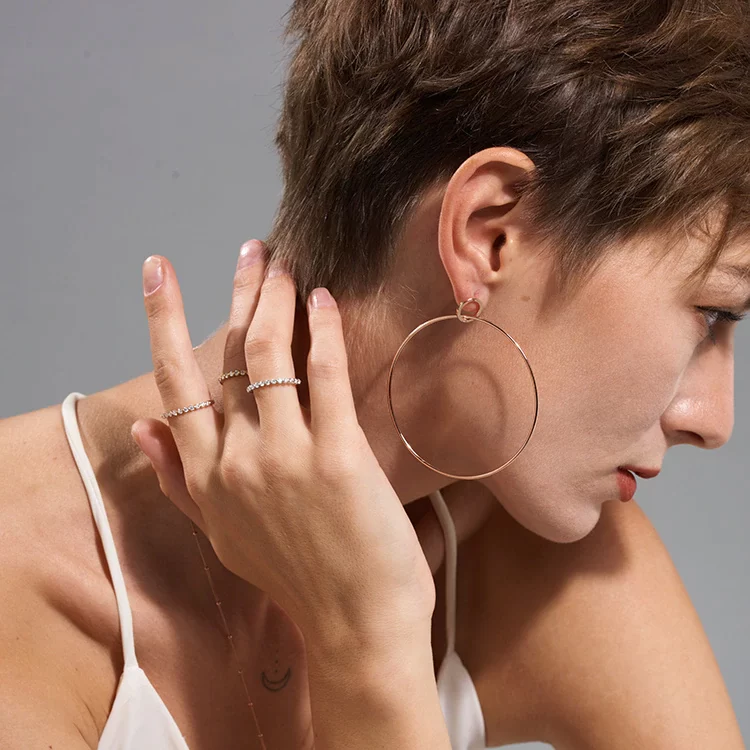 Rosery Poetry Moissanite eternity band starting from $79, SHOP NOW.
An eternity band is a beautiful way to express lasting love, and this moissanite eternity band will help you do so affordably. A line of small moissanite stones extends halfway around the band.
This is a great way to stay comfortable, as the stones won't dig into your hand as they can with full eternity bands.
12. Birthstone Ring
Natural moonstone ring $47, SHOP NOW.
For those looking for cheap engagement rings with a white stone that's not a diamond, a moonstone is an excellent choice.
This natural, milky white stone has a gentle glow that looks especially nice when set in rose gold. However, thanks to the inclusion of cubic zirconia accent stones, this striking ring still offers plenty of sparkle!
Read More
What makes the Princess Diana engagement ring so popular?
Meghan Markle Wedding Ring: A Long-Standing Windsor Family Tradition
What's special about toi et moi engagement rings? Megan Fox, Ariana Grande, Kylie Jenner...