Jewelry
What's special about toi et moi rings? Megan Fox, Ariana Grande, Kylie Jenner...
Nov 30, 2022
What is a toi et moi ring?
In the past year or so, engagement rings with two stones have really been making a comeback. These rings are known as "toi et moi" rings ("you and me" rings), and many people consider them to be the most romantic ring style ever invented.
Toi et moi ring meaning
The two stones of the toi et moi ring symbolize the close connection of souls -- there's a real sense of intimacy, but neither one loses its individuality. If you're shopping for a toi et moi engagement ring or just browsing, this fascinating design is worth knowing about.
History: Napoleon's toi et moi ring 
Like many iconic jewelry designs, the toi et moi ring has a rich history behind it. The first one was designed in 1796 by Napoleon Bonaparte himself when he was a soldier in the French army. Bonaparte intended to propose to Josephine de Beauharnais, a woman six years his senior who already had two children.
Napoleon's family wasn't too excited about this choice, but Napoleon didn't let that stop him. He designed a ring with a gold band and two teardrop-shaped gems: a diamond and a sapphire. Each was just under a carat.
The two gems are right next to one another in an eye-pleasing symmetrical design. The teardrop shapes have points facing opposite directions. Though the setting is fairly simple, the gems themselves make this ring unforgettable.
Josephine accepted the proposal, and the couple remained together until their divorce in 1810. Even though the marriage didn't last forever, the two-stone ring Napoleon designed lived on to be one of the jewelry world's most romantic designs.
Celebrities and toi et moi rings
If you have your finger on the pulse of popular culture, you know that toi et moi engagement rings are having a moment. The ring Machine Gun Kelly used to propose to Megan Fox includes both of their birthstones (and emerald and diamond) set on a striking white gold band made to look like thorns.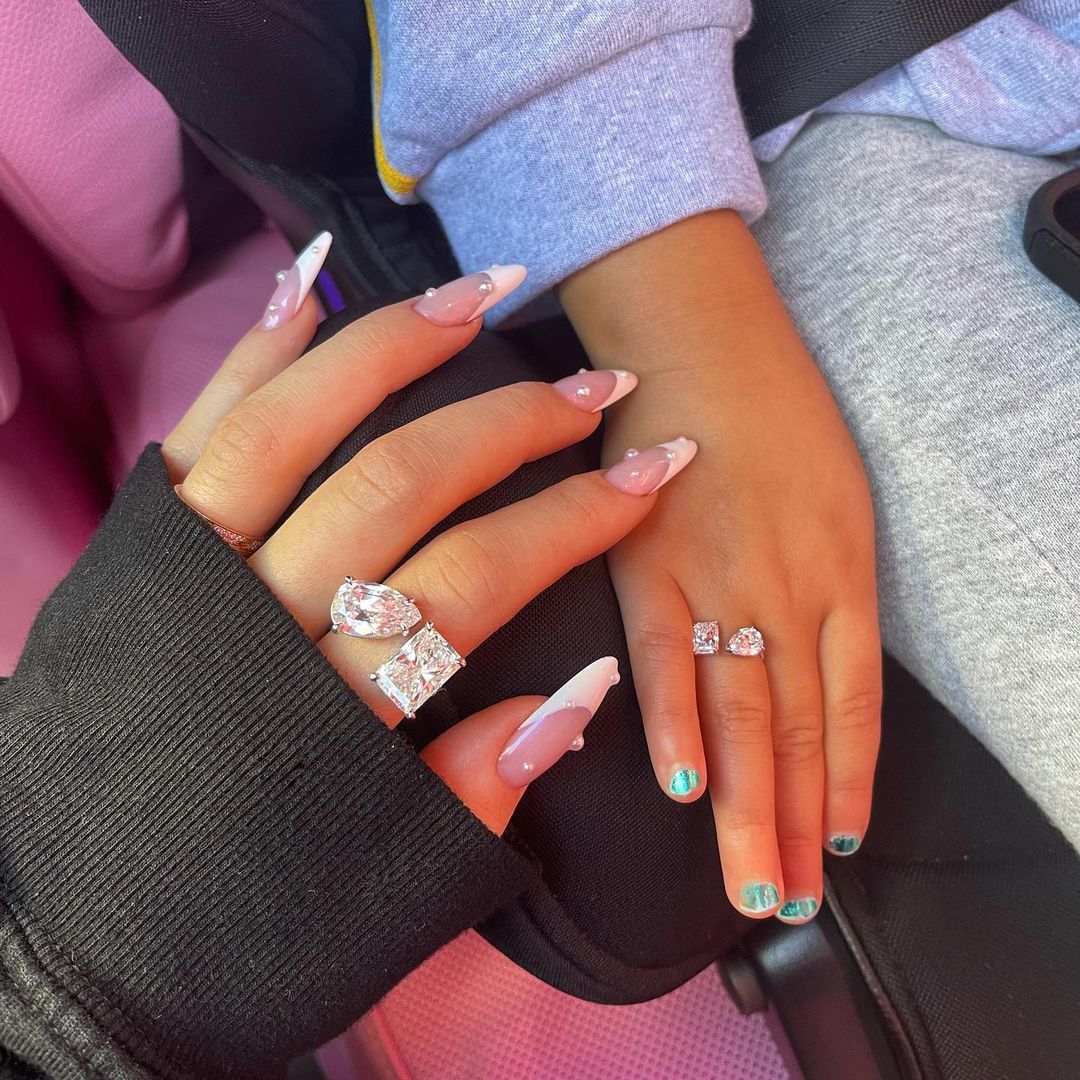 Kylie Jenner's toi et moi ring caused a stir on social media after it was gifted to her by Travis Scott. Her ring features a teardrop-shaped diamond tilted toward a larger, rectangular diamond. Travis Scott even gave a matching, smaller ring to the couple's daughter, Stormi.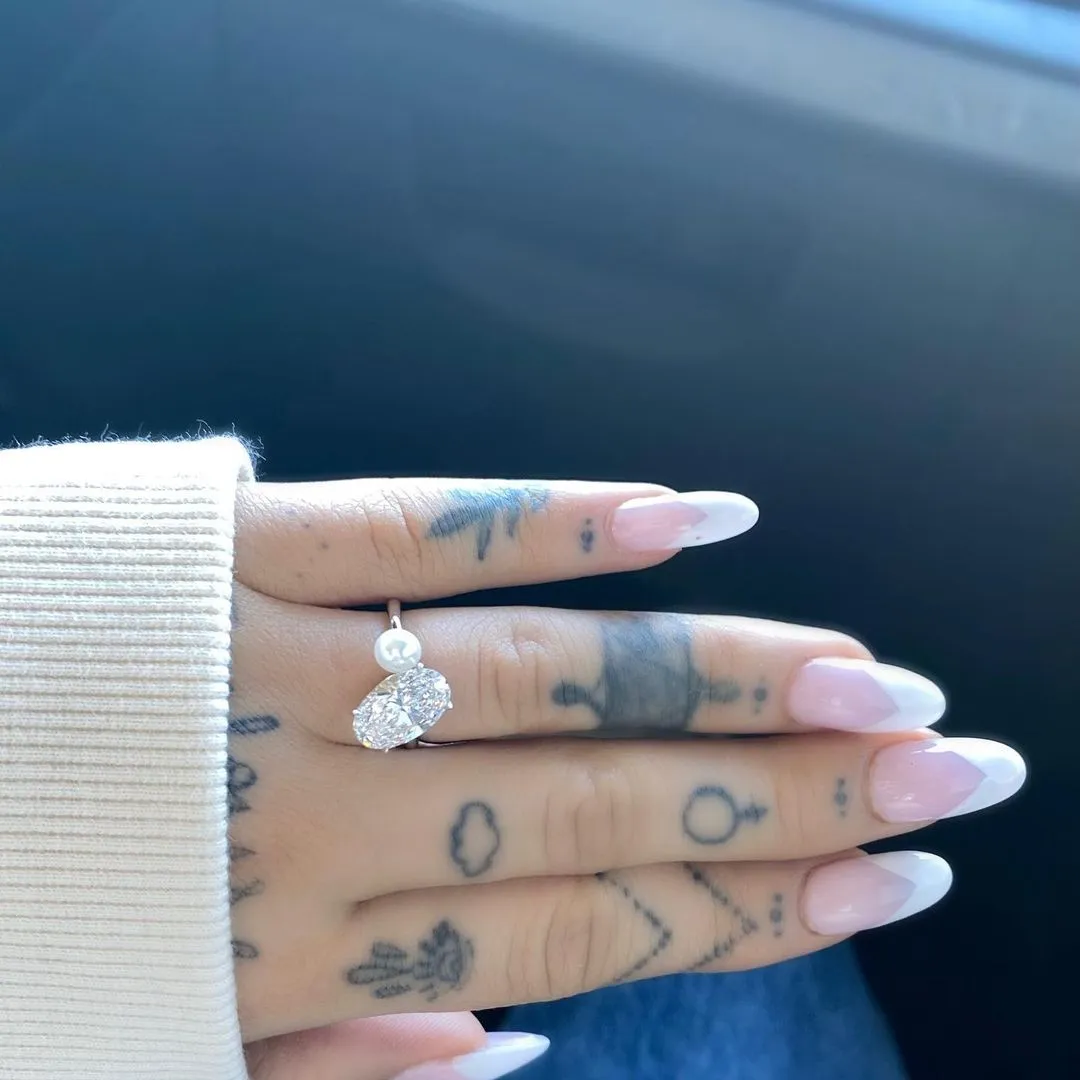 Ariana Grande also wears a toi et moi engagement ring. Hers has a large, oval-cut diamond beside a small, simple white pearl. Though Grande hasn't confirmed it, her fans are certain that the pearl came from her grandfather's tie pin.
These rings have been worn by prominent figures across the decades, too. Jackie Kennedy's engagement ring is considered to be one of the most famous pieces of jewelry of all time. It features a large 2.88-carat diamond and a 2.84-carat emerald. The stones were initially surrounded by smaller baguette diamonds, but Jackie later redesigned it to add another 2.12 carats of diamonds.
How to choose materials, colors and designs?
1. Classic choices: ruby + diamond, sapphire + diamond, or emerald + diamond
Thuo Jewellery Napoleon and Empress Joséphine Toi et Moi engagement ring  $101, SHOP NOW.
Today, we see seemingly endless stone types set into these remarkable rings. But in antiquity, seeing rings with a ruby and a diamond was more typical. The diamond, a stone traditionally associated with marriage, represented prosperity and love. The ruby's intense red hue represented devotion and passion.
2. Use your own birthstones
Emerald toi et moi ring vintage style $65.9, SHOP NOW.
You can still find toi et moi rings with this specific stone combination, but high-end jewelers continue to innovate and revamp the style. For instance, one of the more modern takes on the toi et moi ring is to include each person's birthstone.
3. Choose different types of stones with different cuts and sizes
Toi et moi engagement ring Ariana Grande $48.9, SHOP NOW.
Modern designs often use two different types of stones with different cuts and sizes. For an engagement ring, one stone (usually the larger one) is often a diamond. Alternatively, an engagement toi et moi ring could have two birthstones surrounded by a pave of small diamonds on the band.
4. Have some level of color contrast
Rosery Poetry toi et moi ring with natural black rutilated quartz and white cubic zirconnia from $59 to $399, available in silver, 10K and 14K gold, SHOP NOW.
For those not going the birthstone route, it's common to have some level of color contrast between the stones. Green and white (emerald and diamond) is a very popular combination. A white and black palette-- either black and white diamonds, a white diamond and obsidian, etc. -- adds a beautiful sense of contrast.
If you're going for a more monochrome look, the combination of a diamond and a pearl isn't unusual. But it is surprising, as pearls are soft enough that most people don't want to take the risk of wearing them daily. If you're careful and take good care of your ring, the pearl and diamond route is a good one.
5. Moissanite is an excellent and affordable choice
Rosery Poetry toi et moi ring with moissanite stones from $129 to $399, available in silver, 10K and 14K gold, SHOP NOW.
Of course, some modern designs, especially those not intended to be engagement rings, eschew the diamond entirely. You can find especially striking pieces made with lapis lazuli and other semi-precious stones.
And if you want a more affordable diamond lookalike, there's always moissanite, too. Moissanite is a rare stone that shines brighter and has a more stunning fire than diamonds, while costing 1/10th of the price of diamonds.

Why is it possible? It is because this stone has a higher refractive index of 2.65-2.69 (2.42 for diamonds), a higher dispersion index of 0.104 (0.044 for diamonds) and a higher brilliance of 20.4 (17.2% for diamonds).
6. Try some separation in the ring if you want a more modern feel
Toi et moi moissanite ring Kylie Jenner resizable $69.90, SHOP NOW.
It's also not unusual to see some separation in the ring, as many modern designs incorporate a space between the two stones for a more modern look. As for settings, any variety of gold can be used. You might choose yellow gold for classic look, white gold for a cool palette, or even pink or rose gold for a different aesthetic.
Conclusion
There's a toi et moi ring out there for just about any taste. If you're looking to commemorate your engagement or any special connection, try a toi et moi ring!
Rosery Poetry toi et moi ring starting from $57.9, SHOP NOW.
Image sources: The jewellery editor, Kylie Jenner, Ariana Grande.
Read More
Moissanite vs. diamond side by side: 11 key differences to know
8 diamond alternatives that look like diamonds but might be better!