Jewelry
Everything to Know About Emily Ratajkowski Engagement Ring
Dec 14, 2022
Model, actress, author, and podcaster Emily Ratajkowski is a celebrity with a unique, memorable engagement ring. Emily and Sebastian Bear-McClard were engaged and married in February 2018.
From the proposal to details of the ring itself, read everything you may want to know about the Emily Ratajkowski engagement ring.
Sebastian Bear-McClard's Proposal
In February 2018, Sebastian proposed to Emily at Minetta Tavern, a French restaurant in New York City. He didn't have a ring at the time, so Emily declined.  However, Sebastian grabbed a paperclip from their dinner bill, crafted a temporary ring, and she accepted. Emily noted that she found the paperclip ring romantic.
The couple shared the story of the proposal on The Tonight Show when chatting with Jimmy Fallon.
Emily Ratajkowski Wedding Ring Before Her Engagement Ring
Emily and Sebastian got their wedding rings before Emily's engagement ring. The couple went to Chinatown and purchased an ounce of gold. Sebastian had the idea to make their rings out of gold, which Emily thought may be too difficult. However, they found a kind jeweler who said he could help.
Emily and Sebastian went to the man's studio after hours and crafted their gold wedding bands by hand. They hammered them out and used a small blow torch to complete the project. They made these rings the night before their wedding day.
The couple tied the knot in a surprise wedding at City Hall in New York City on February 23, 2018. Emily wore a mustard yellow Zara jumpsuit with a black veiled hat. The outfit was meant to help discuss Emily's celebrity status as they said their nuptials privately in the company of their closest friends.
Emily Ratajkowski Engagement Ring
Bear-McClard presented Ratajkowski with her engagement ring months after their wedding. They went on their honeymoon in March 2018 where they spent time in Utah at a private resort.
On July 11, 2018, Bear-McClard finally gave Emily the engagement ring. Through an Instagram post, Ratajkowski showcased the ring alongside her homemade wedding band with Sebastian smiling in the background.
It's unclear who designed Emily Ratajkowski's engagement ring. She told interviewers that she worked on the design with Sebastian through a process that involved around 50 sketches.
The couple then employed Emily's friend, Alison Chemla to help finalize the design. Alison Chemla is the jewelry designer for Alison Lou, and she helped Emily find the right setting for the custom-made piece.
Emily Ratajkowski Engagement Ring Style
Fans were stunned by Emily's nontraditional two-stone engagement ring. It is an old classic: the toi et moi ring (you and me ring). This ring features a large three-carat pear-shaped diamond and a two-carat, princess-cut diamond.
The band is made out of 18-carat yellow gold and matches the hammered wedding band. On the contrary, most engagement rings at the time featured a large single stone, front, and center.
Emily Ratajkowski Engagement Ring Cost
Experts estimate the value of the Emily Ratajkowski engagement ring to be somewhere between $50,000 and $90,000. With changes in the jewelry industry, the value of the ring can fluctuate over time, especially based on the availability of gold and such exquisite diamonds.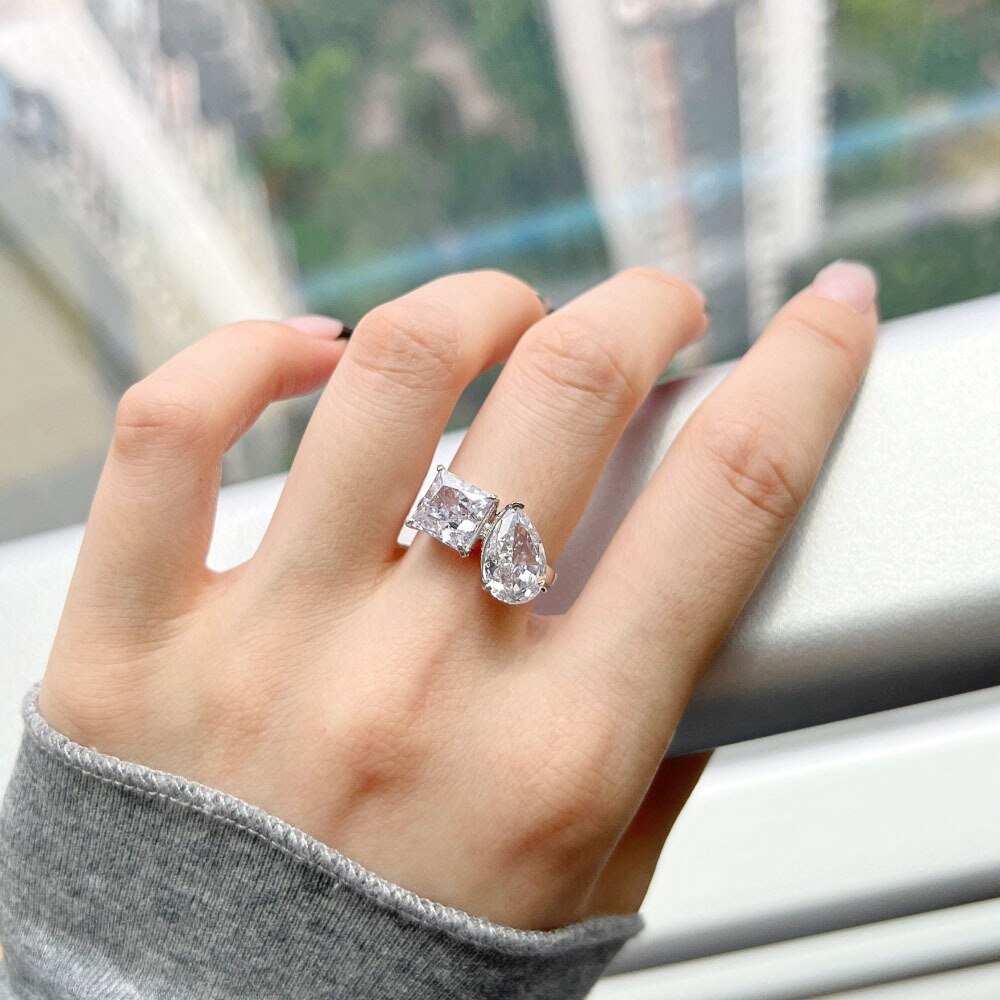 Rosery Poetry Emily Ratajkowski engagement ring replica $49, SHOP NOW.
Emily Ratajkowski Engagement Ring Meaning
Something important to note about the EmRata ring is it's a toi et moi ring. A toi et moi ring is a special style of ring otherwise known as a you and me ring that features two gemstones. 
The you and me ring design gives special meaning and sentimentality to an engagement ring. The two stones are supposed to symbolize two entities joining together to become one.
That's why many couples opt for toi et moi rings featuring their birthstones. In Ratajkowski's case, the ring features two diamonds which are iconic for engagement rings. With the two different shapes, the diamonds can be nestled together side-by-side for a snug, attractive fit.
Should You Buy a Toi et Moi Engagement Ring?
If you've been keeping up with recent jewelry trends, you already know that the toi et moi style has become popular with celebrities.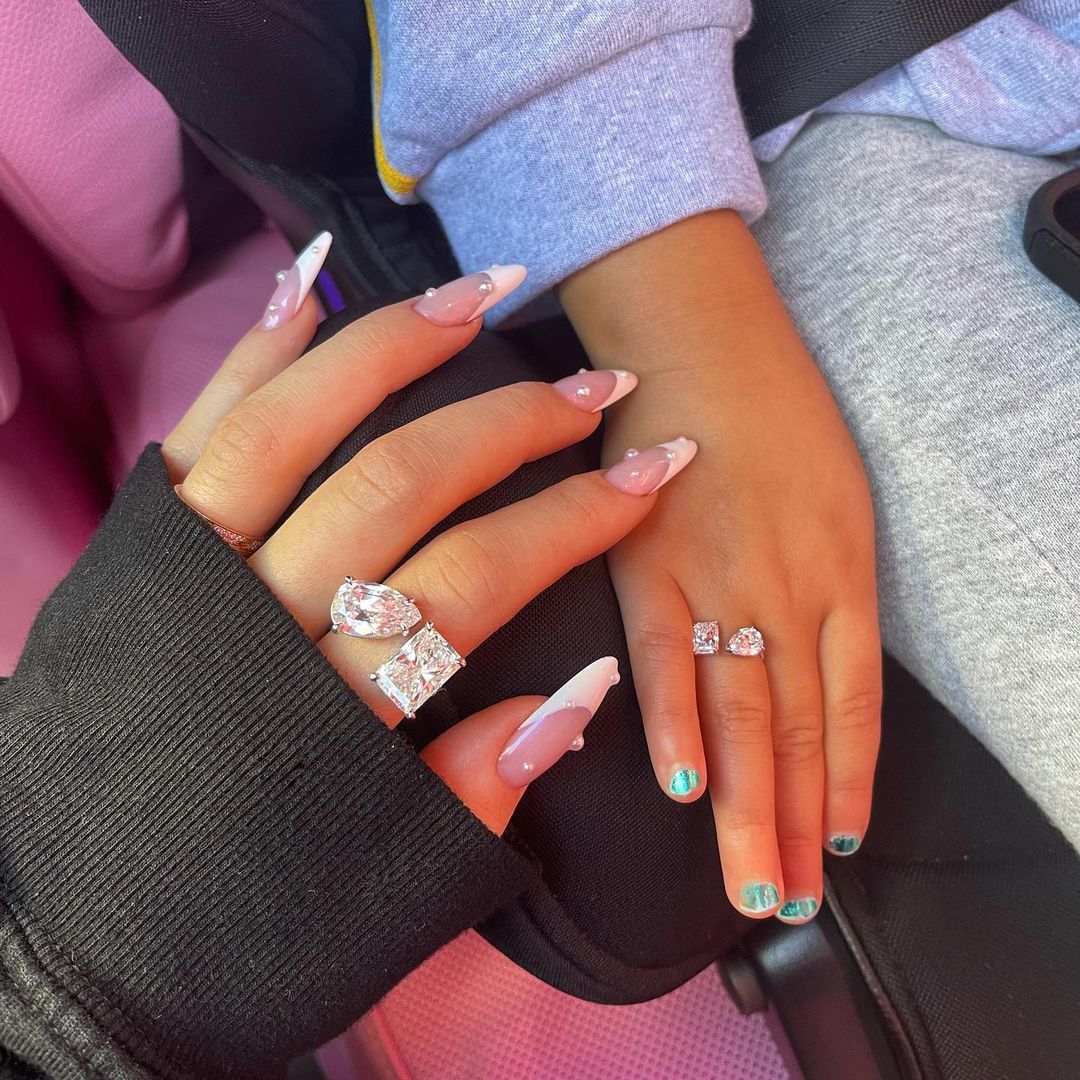 Travis Scott proposed to his girlfriend Kylie Jenner with a toi et moi ring featuring both a radiant diamond and a pear diamond. He even gifted a matching, smaller ring to his daughter Stormi.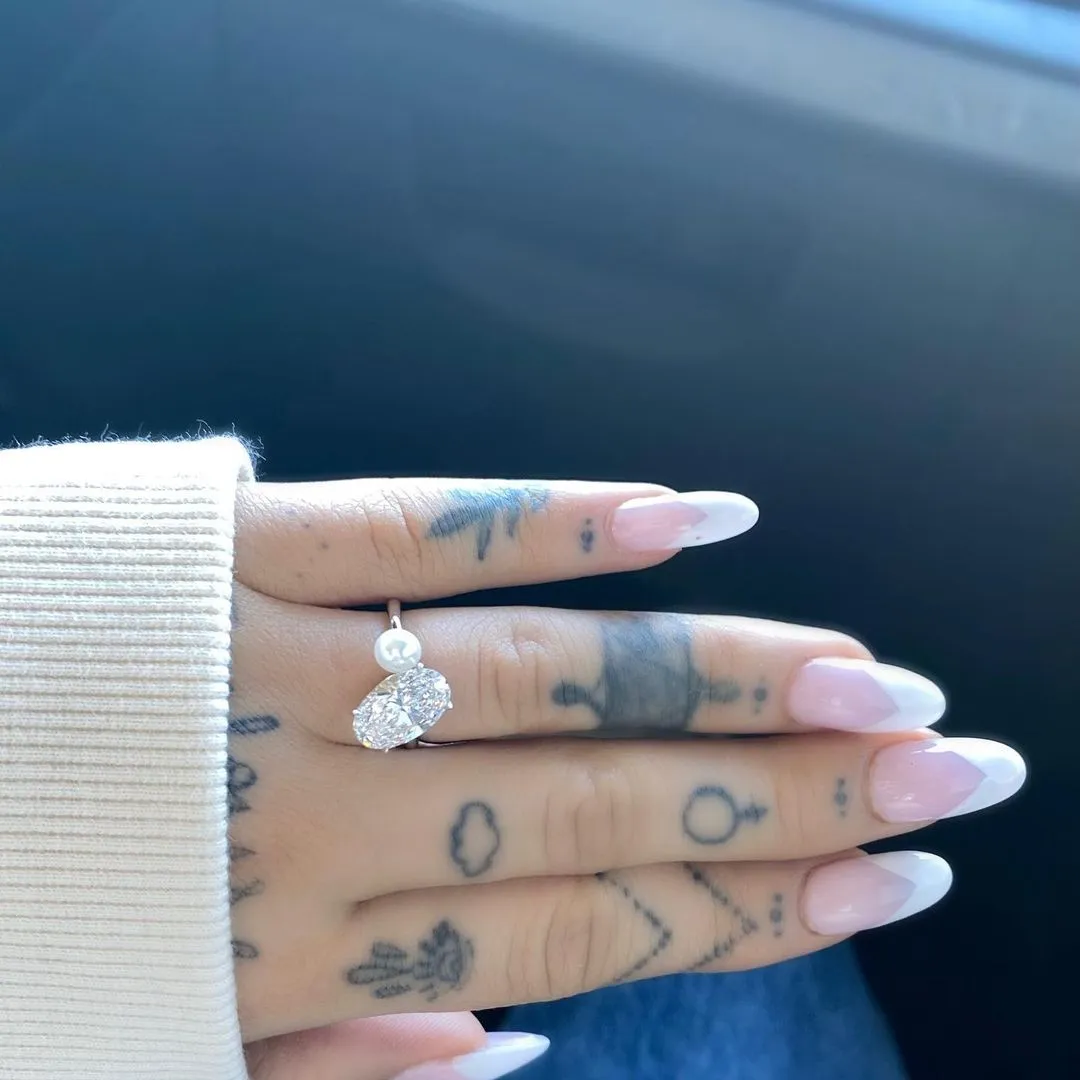 Pop star Ariana Grande also received a toi et moi engagement ring from her fiance Daton Gomez. This ring featured a pearl and a diamond set in platinum.
The Toi et Moi Ring Is Unique
First of all, a toi et moi ring will allow you or your loved one to create a custom design filled with meaning. You can select each gemstone (or pearl) based on your birthstones or other sentimental accents.
You can showcase a unique design crafted with thoughtfulness, and nod to the latest celebrities embracing this trend, such as Ariana Grande.
The Toi et Moi Ring Is Meaningful
Rosery Poetry Ariana Grande Engagement Ring Replica $48.9, SHOP NOW.
Plus, the toi et moi ring Napoleon designed is considered to be one of the jewelry world's most romantic designs. The two stones of the toi et moi ring symbolize the close connection of souls -- there's a real sense of intimacy, but neither one loses its individuality.
A toi et moi ring is a great choice, especially if you're in the market for an engagement ring or just want something special to give your significant other.
Or, if you just like the aesthetic, there's nothing wrong with buying one for yourself! You can find these rings made with precious or semiprecious stones, so there's something for just about every budget.
How to Buy a Toi et Moi Ring?
Not everyone is in the position to design their own toi et moi ring, but that's ok — with the design's recent resurgence in popularity, jewelers of all sizes almost always have a range of these rings available. Of course, before making your purchase, make sure you know the ring size of the person you're purchasing it for!
Take your time and look around at different designs. Some toi et moi rings have the two stones touching, while others have some space between the two.
Rosery Poetry toi et moi ring with moissanite stones from $98 to $399, available in silver, 10K, and 14K gold, SHOP NOW.
You can also search for a specific type of stone. Most high-end rings include precious stones, but if you're going for something more affordable, moissanite, white sapphire, quartz, and other more accessible diamond alternatives come in a striking array of colors.
The band material is also an important consideration. Gold and platinum are great choices.
But if you're selecting a less expensive ring, make sure the band is made of high-quality metal like 925 sterling silver. The last thing you want is an allergic reaction to nickel or another low-quality metal!
Instagram is home to thousands of models. You can also learn from these hot Instagram models.
To Conclude
All in all, like the Emily Ratajkowski engagement ring, toi et moi rings are beautiful pieces of jewelry that carry plenty of meaning for the wearer. They're enjoying a moment in the celebrity spotlight now, they never seem to go out of style!
Rosery Poetry Toi et moi ring Kylie Jenner resizable $54.9, SHOP NOW.
Read More
What's special about toi et moi rings? Megan Fox, Ariana Grande, Kylie Jenner...
What makes the Princess Diana ring so popular?
Why choose an opal engagement ring? And our hand-picked collection
Ring size chart: How to measure ring size at home?